Berkshire History

Roman Times
Though Berkshire as a consolidated area still did not exist in the Roman period, the county made up the majority of the Civitas Atrebates. This Roman administrative unit, which also spread into North Hampshire, covered the Northern hinterland of the old capital of the Atrebates tribe at what we now call Silchester. The Romans knew the town as Calleva Atrebatum and it was here that they collected taxes and meated out justice to the local population. Silchester, of course, now stands just over the county boundary in Hampshire, but, in those days, it was the precursor of Berkshire's county-town of Reading, only eight miles away. Though some Iron Age people had lived in roughly organised oppida, their society was essentially rural and urban developments such as Calleva brought a completely new way of life to Britain: drains, streets, markets, shops, inns, temples, theatres and amphitheatres. The amphitheatre at Calleva no doubt held gory public entertainments, as at the Colloseum in Rome, but on a much smaller scale. Some think they were probably not much more than bull or bear baits, though somewhere in between is likely. This fascinating building actually stands in Mortimer West End which, until relatively recently was part of the tything of Stratfield Mortimer in Berkshire.
As the major population centre in the area, Calleva became an important hub in an unprecedented communications network which emerged across Britain. Roads radiated out from here through Berkshire towards Dorchester-on-Thames, St. Albans (along the Camlet Way), London (along the Devil's Highway), Cirencester (along the Ermin(e) Way) and Bath, opening up the province like never before. The B4000 above Wickham still follows the old Roman Ermin(e) Way almost exactly, while stretches of the so-called Devil's Highway still exist (modernized of course) at Stratfield Mortimer, Beech Hill, Riseley, Finchampstead and across Swinley Forest at Crowthorne and Bracknell; stretches of the Dorchester road are probably identifiable at Brightwell, Cholsey and Moulsford.
This road system also linked Calleva to the various small towns more common to the Berkshire landscape. These lesser settlements grew up as centres of trade or other activities. Thatcham and Wickham Bushes (Easthampstead) appear to have been manufacturing bases for metal smelting and the production of ironwork. Frilford was a religious centre surrounding an important walled pagan complex, possibly containing as many as five temples. There were certainly at least two: one circular apparently with a sacred fire at its centre, the other of the more usual Celtic arcaded-cell type. Immediately to the east has been discovered what may be a huge amphitheatre which was probably used for religious ceremonies rather than gladiatorial shows. Although it has also been suggested it was a sacred walled pool. A second religious settlement surrounded a temple on Weycock Hill in Waltham St. Lawrence parish. Finds have led to the suggestion that this vast octagonal building may have been dedicated to the Roman goddess Vesta. The name Waltham is Saxon for "Dilapidated Homes," apparently referring to the ruins of the Roman souvenir shops and pilgrims' hostels there. There were other more rural temples at Lowbury Hill (Aston Upthorpe), Hampstead Norris, Finchampstead and St. Leonard's Hill (Clewer Green). Wickham and Wickham Bushes derive their Saxon names from the borrowed Latin word Vicus meaning "settlement" or "small town". This gives us some idea of their size and status. However, only Speen, then called Spinis, is mentioned in contemporary records. It was the site of an Imperial posting station, but its exact location is unknown. Archaeology has revealed other settlements at Abingdon, Wantage, Streatley, Newbury and Bray.
The luxuries of civilization associated with town living also spread to the countryside: interior decoration, heating and washing facilities are aspects of Roman life that bring the Roman Villa immediately to mind. In fact, though many of Berkshire's villas, like those at Cox Green and Aldermaston, had colourfully painted walls, underfloor heating systems and steam bath suites, few have produced evidence of the height of Roman luxury: a patterned mosaic floor. Tiny fragments have been excavated in villas at Kintbury and near Eling, but only the Woolstone and Lower Basildon Villas have produced near complete survivals. The latter depicted an ornate geometric pattern, apparently worked by the finest of mosaicists from the so-called 'Central-Southern School' probably based in Winchester. Unfortunately, the Victorian workmen who discovered it destroyed this mosaic soon afterward.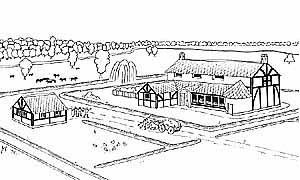 The relative mediocrity of villas in Berkshire, betrays the real potential which the Romans saw in the county. For the majority of these buildings were not the country homes of the rich, but very much working establishments at the centre of farm estates. Barton Court Farm (Abingdon St. Helen) is a good example of a simple corridor-type Roman farmhouse villa. It was surrounded by ditched paddocks which were probably used as livestock pens. Excavation has shown that cattle and sheep were both kept on the farm and appear to have been butchered locally. The meat may have been stored in the villa's (relatively unusual) cellar. Draught oxen and working dogs were also in evidence. The farm produced spelt, club wheat and barley, while activities on site included corn drying and probably milling nearby. More recent investigations around a simple villa at Maddle Farm near Upper Lambourn have identified a large agricultural estate based on long narrow fields of the Roman type: 47 hectares of arable land with an additional 850 hectares of pasture. It is estimated that this could have supported between forty and eighty people (including a workforce of about thirty). They apparently lived in the associated Roman village at Knighton Bushes.
Next: Dark Age & Anglo-Saxon Times
By David Nash Ford