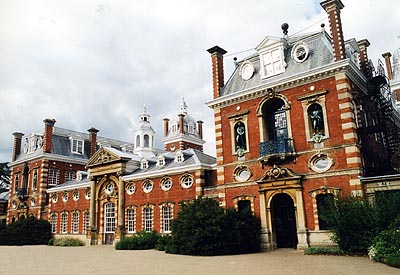 Crowthorne
Hunting, Highwaymen & a Hospital
The Crow Thorn was originally a local landmark on Circle Hill amongst the moorland which covered this part of Windsor Forest. It stood at the junction of the Devil's Highway (the Roman road from London to Silchester) and the Sandhurst to Bracknell Road – now called Brooker's Corner. By 1823, there were two dwellings nearby and one survives today as Edgbarrow Cottage. It was then a roadside tearoom.
This minute settlement was considerably enlarged in the Victorian Age when the famous college and hospital were both built and the employees needed nearby homes. The Railway Station was added in 1860 and a wooden church in 1868. Although this was later put on rollers and moved across the road to serve as a corn store when the present church was erected in 1872 at a cost of £1,934-19s. By 1894, when the area had its own parish carved out of Sandhurst, it had become the 'new town' of its time and there was a proposal to call the place Albertville after Prince Albert. Luckily, however, Doctor Edward White Benson, led a successful campaign to retain the ancient name. There is no truth in the old legend that his wife made the title up, after seeing a crow sitting on a thorn tree.
Doctor Benson was the first headmaster of Wellington College and later became Archbishop of Canterbury. Built between 1856 and 1859 at Kitt Holk's Bottom through a public subscription of £145,000, the school was designed in an 18th century French chateau style by John Shaw, with a chapel by Gilbert Scott. It was one of two national memorials to the 1st Duke of Wellington in the local area. Queen Victoria's son, Prince Alfred, laid the foundation stone and he was, thus, for many years remembered in the name of one of the town's pubs (now just the Prince). Wellington was originally supposed to be a school for the orphans of British officers. Though its range of pupils has expanded, it is still one of the best-known public schools in the country.
This was a highly appropriate place for siting the College, for the Iron Duke used to enjoy hunting in the area: hence the name of Duke's Ride. It should be remembered that much of the modern town, north of this road, lies over the border in Wokingham Without and would best be referred to as Bigshotte. Bigshotte Lodge stood on the site of Norwood's Ravenswood Village. It was the centre of Bigshotte Walke, one of the sixteen portions into which Windsor Forest was split. Bigshotte 'Rayles' were nearby, an enclosed area of railings built by the King for herding red deer. The name of the park was long remembered at Bigshotte School, a bit further along the Nine Mile Ride. The boundary of this region actually follows the old Devil's Highway, just north of the ride.
The infamous high-security psychiatric hospital at Crowthorne is, of course, Broadmoor. It was founded in 1863, after much campaigning by the Earl of Shaftesbury. Safety considerations led to it being located on Lodge Hill in, what was then, a remote region of the Berkshire Moors. In the first seven years, there were some fifteen escapes and it was decided to raise the perimeter wall by sixteen and a half feet. Fortunately, security has improved somewhat since then.
The Berkshire Moors are a largely forgotten yet unique part of the county's natural landscape. Although much built upon, they still survive in part and can be best viewed on foot, or whilst travelling along the Crowthorne By-Pass from Sandhurst to Bracknell. This area is the real Broad Moor, sometimes called Broad Moor Bottom, but there were, and are, other moors spreading across the old parish of Sandhurst and into Eashampstead and Winkfield.
In the 17th and 18th centuries, this wide expanse of open moorland also became notorious as a place frequented by highwaymen. One was apparently a local man, Parson Darby from Yateley or Eversley, just over the border in Hampshire, although his existence is now disputed. He was said to have preached on Sundays and robbed unfortunate travellers in the week. His stable-boy could never understand why this quiet parson's horse was always so tired. Darby was eventually caught and hanged after shooting the Royal Mail's coachman on Bagshot Heath.
Read more history of Crowthorne in David Nash Ford's book, 'East Berkshire Town and Village Histories'.
Click to Order direct from the Author.
NEW BOOK

Whether you are from East Berkshire or just visiting, this book is the place to find out all about the history of some 126 different towns, suburbs, villages and hamlets around Windsor and Maidenhead, Slough and Bracknell Forest. Join David Nash Ford from berkshirehistory.com as he examines the structures, people and events that have shaped each place. Some of these histories were first published in part here on this website, but they have all been considerably expanded and are joined by many new histories of places often missed by historians, including those which only joined Berkshire in 1974 or later. Click for full details and purchase options.