Berkshire History

Dark Age & Anglo-Saxon Times
Once the Roman Administration had departed Britain, probably around AD 410, town life in Berkshire, as elsewhere, barely lasted out the century. Calleva survived for a while and the citizens constructed a series of defensive banks and ditches around the town's northern borders in Padworth parish. Presumably they were attempting to keep out pagan Anglo-Saxon invaders who were crossing from Denmark and Northern Germany and moving up the Thames. Sadly, Dark Age tales of King Arthur refortifying an ancient hillfort at Windsor can be disregarded. Life in Berkshire reverted to its former comparatively primitive state. As excavations at Ufton Nervet, Theale, Long Wittenham and the Maidenhead/Wargrave area have revealed, people returned to living in farmsteads or simple round-houses, surrounded by small embankments, possibly for protection against marauders. The Anglo-Saxons, of course, lived no differently and traces of their villages and farmsteads (as well as more high-profile settlements) have been uncovered throughout Berkshire, for example at Radley and Sutton Courtenay. Initially, these Germanic people were probably mercenaries in the late and post-Roman army called the Gewissae or the 'trusted ones'. They appear to have settled in the Dorchester area of later Oxfordshire and across the Thames around Abingdon from a very early date. They may have intermarried with the local Romano-British population, for the chieftain's burial on Lowbury Hill was certanily that of a man who grew up in Cornwall. Soon the Saxons gained political ambition and, in time carved, out kingdoms for themselves. One of these, Wessex, eventually covered Berkshire, Hampshire, Dorset, Wiltshire, Somerset and Devon. The north of Berkshire was particularly associated with the early Wessex kings particularly and they had Royal palaces, with huge wooden feasting halls, at Long Wittenham and Drayton. Golden 'eagle' shield mounts and bejewelled sword fittings have been discovered at the latter. There may have been an additional palace in Cholsey. Was it there that St. Birinus sought out King Cynegils, in AD 634, and gained permission to convert his people to Christianity? Tradition says he preached to the monarch from Churn Knob in nearby Blewbury. The ancient Abbey of Abingdon was apparently founded only forty years later, although there is a debate over whether its early records may refer to a monastery in Bradfield. There were nunneries at Reading and Cookham and elsewhere minsters soon developed, from which to send priests out into the countryside, at Kintbury, Lambourn, Thatcham and White Waltham. Saxon architecture is still extant in the county at churches like Wickham and Boxford where one of the oldest windows in the country may be seen, complete with wooden shutter. The power of Christian Wessex was so extensive that by AD 829, its king, Egbert, became effective ruler of all England.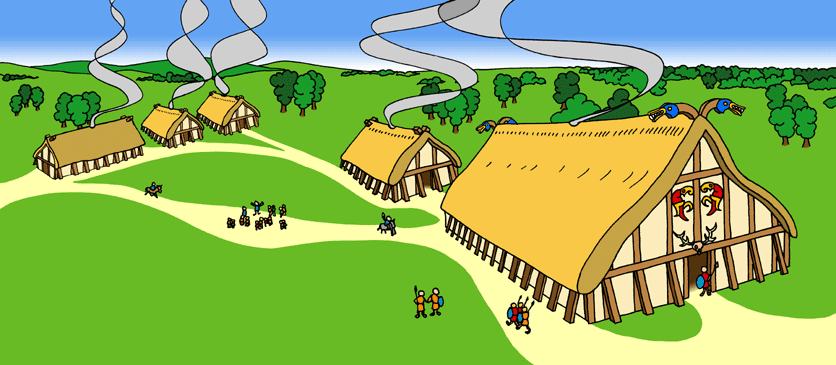 There was great rivalry between the Anglo-Saxon kings, and areas of Berkshire changed hands several times particularly between Mercia and Wessex before a greater enemy, the Norse Vikings arrived from Scandinavia to challenge all of them. By AD 860, when the name of Berkshire was first recorded, as Berrocshire, the Vikings were penetrating deep inland. Berrocshire was composed of two areas, 'Ashdown' in the north and west, and 'Sunningum' in the east. According to Asser, biographer of Wantage-born King Alfred the Great of Wessex, the name was Celtic, deriving from the 'Berroc Wood,' possibly in the south-west of the county, where box trees were said to flourish in large numbers. Modern opinion is undecided. Asser's translation of Berroc may well have been flawed. It is probably Celtic for 'hilly', referring to the Downs. A Saxon meaning of 'Sacred Grove of the Oak Tree County' is another interpretation. It refers to the worship of the Celtic god, Cernunnos, and his associated Oak Tree in Windsor Great Park. Most of Berkshire's present-day place-names are, indeed, Saxon in origin. Several use the suffix '-ingas' denoting the family and followers of a particular individual: Sonning, with Sunninghill and Sunningdale, are in the areas claimed by the Sunningas; Wokingham and Wokefield belonged to the Woccingas and Reading to the Radingas.
Reading, in fact, became the Vikings' headquarters camp and an important base from which they waged war on the English over a number of years. Though Wessex victories included King Alfred's famous triumph at the Battle of Ashdown (probably at Compton/East Ilsley or Aldworth/Aston), the Saxons were eventually forced to partition England, in AD 886, between their own Southern territory and the Danelaw. Berkshire remained under Saxon rule and served as the site of two of Alfred's defensive burhs or fortresses: one at Wallingford, another on Sashes Island in Cookham. At Wallingford, the defences comprised an enclosure of 100 acres ringed by a high bank and a ditch. The burh walls consisted of 5-metre long perches, each defended by four men.
By the 10th century, Berkshire, till then mainly a county of small villages and farmsteads, began to acquire the nucleus of towns as some places rose in importance through the government activity that happened to be centred there. Kintbury, Thatcham and Lambourn, for instance, were local administrative and legal centres for the surrounding Hundreds. Some places also acquired lustre as the sites of Royal palaces at the centre of large estates. The later Saxon kings occasionally consulted with their Witan-gemot, a council of advisors (and parliamentary precursor) at their Berkshire palaces, for example, at Abingdon in AD 989, Wantage in AD 995, Cookham in AD 997 and Sutton Courtenay in 1042. There were other notable palaces Old Windsor and Faringdon. Sonning was made the joint-focus of the diocese of Ramsbury and Sonning in AD 909, with both Cathedral and Bishop's Palace. Berkshire's first true towns, however, were sited at Wallingford and Reading. Both later acquired their own mints. Wallingford was the seat of the county's ruling Ealdorman and his administration, while Reading developed as a trading centre. Meanwhile, in the countryside which covered most of the county, the small holdings of earlier Saxon times had become much larger fields, each of which was strip-farmed by local villagers while other areas of land remained as unused heath, forest and marsh.
By David Nash Ford & Brenda Ralph Lewis