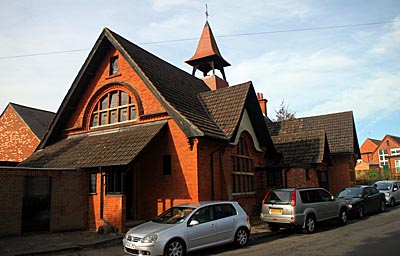 Sunninghill
Silwood, Sovereigns & a Spa

Sunninghill means Sunna's People's Hill referring to a supposed early Anglo-Saxon leader, Sunna, whose followers set up a small kingdom in Eastern Berkshire. Centred on Sonning, the 'province of Sunningum' is recorded as early as AD 673. The name is particularly highlighted at Sunninghill because it lay on the boundary with the adjoining kingdom of 'Surrey' (meaning the Southern Kingdom).

The area was originally part of Windsor Forest, which inlcuded the royal Sunninghill Park near Cheapside, and the inhabitants were scattered throughout the woodland. They would only come together on Sundays at Sunninghill Church, which was first built in stone in about 1120. For much of its life it was under the control of the nunnery of Bromhall, situated on the edge of adjoining Sunningdale. It was completely rebuilt in Victorian times but one of the original Norman doorways was discovered in a garden wall and has since been restored. The church is chiefly noted for its chapel to the memory of Thomas Holloway of Tittenhurst Park, who founded nearby Royal Holloway College. He is buried in the churchyard, along with Sir Home Riggs Popham of Titness Park, the Naval Commander in charge of the expedition which claimed the Cape of Good Hope for Britain. The house called The Cedars, next to the church was once the property of the political writer, George Ellis. His friend, Sir Walter Scott, was a frequent visitor, along with other members of literary society.

Much of this area was certainly open heath and woodland frequented by bandits who preyed on travellers moving west from London, as well as those leaving Windsor. The parish register contains the following entry:

"A certain highwayman, whose name we know not, attempted to rob the Salisbury Stage Coach, near Kingswick Beech in this parish, was shot with a brace of bullets by a gentleman who was in ye coach on Monday the 20th Day of March 1704 and was buried here on Wednesday following."

Throughout the 18th century however, rich gentlemen began to carve out small estates for themselves in this area. In earlier times, the manor house of Sunninghill was called Eastmore and it was located somewhere near Cheapside. After the Civil War, it was eventually purchased by a parliamentarian, John Aldridge. He became a wealthy tanner and used bark from the estate in his tannery business. In 1788, James Sibbald, a banker, purchased the place. He built a fine Georgian mansion, called Silwood House, on the other side of the park, sweeping away the villagers who lived there. This was replaced in 1876-8 by the present house, designed by Sir Alfred Waterhouse. King's Wick was another important old house, which stood at the southern end of Nell Gwynne's Avenue. An old story tells how this lady used to lodge there while attending King Charles II at Windsor Castle, but this seems to have been due to a confused memory of the Gwynne family of Frogmore.

Sunninghill began to expand as a village down the west side of Sunninghill Road on Saltershill during the early 19th century. The school was founded in 1818 next to the smithy and things expanded from there. This was due partly to the popularity of nearby Ascot Races, but largely because of the chalybeate spa at the old Wells Inn (now a pan-Asian restaurant). Since the discovery of the health-giving spring there the previous century, it was one of the prime places to be seen for Windsor's high society. In its heyday, it was as popular as Bath or Tunbridge Wells, but its clientele was much more exclusive and it was even frequented by Royalty.

Read more history of

Sunninghill and other settlements in the parish in David Nash Ford's book, 'East Berkshire Town and Village Histories'.
Click to Order direct from the Author.
NEW BOOK

Whether you are from East Berkshire or just visiting, this book is the place to find out all about the history of some 126 different towns, suburbs, villages and hamlets around Windsor and Maidenhead, Slough and Bracknell Forest. Join David Nash Ford from berkshirehistory.com as he examines the structures, people and events that have shaped each place. Some of these histories were first published in part here on this website, but they have all been considerably expanded and are joined by many new histories of places often missed by historians, including those which only joined Berkshire in 1974 or later. Click for full details and purchase options.