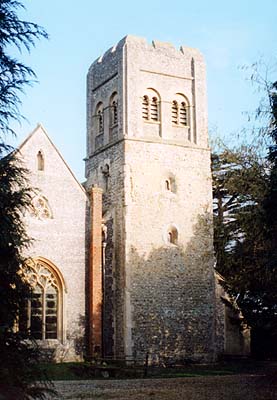 Wickham
St. Swithun's Church
Wickham is one of only two churches in the county with sizeable Anglo-Saxon remains. The other is just down the road in Boxford. Wickham's sturdy pre-Conquest tower is worthy of close inspection. The Saxon builders have reused old Roman tiles and small Roman columns at the windows: evidence of the small Roman town or 'vicus' which existed on the site and which is remembered today in the name of the village. The structure is generally thought to have been erected in its hilly location as a standalone look-out tower with associated beacon, though this would not have precluded it doubling as a church. The entrance at first floor level would have been reached by a ladder which could be drawn up in times of trouble. It may also have served as a balcony from which to display holy relics to the masses.
Unfortunately the adjoining medieval nave and chancel were almost entirely rebuilt in 1845-9. They do, however, house a fascinating group of very large papier maché elephants decorating the beams of the north aisle's roof. Four were bought at the Paris Exhibition of 1845 and another four were later commissioned to join them. There is some rich Victorian carving and curvilinear tracery on the tower screen framing an attractive font with New Zealand cover from the 1862 London Exhibition. There is also an 18th century cope, but little else of interest. The whole building is, unfortunately, rather dark and gloomy.
Almost touching the church is Wickham House, the former rectory, but the high hedges mean you cannot see it at all.
Architecture: Anglo-Saxon flint tower adjoining a mostly Victorian Church.
This is not the official Wickham Church website. Please do NOT mail me about use of the church. Visit the C of E's Church Near You website instead.