RBH Home
Maps & Travels
Articles
Legends
Towns & Villages
Castles & Houses
Churches
Biographies
Gentry
Family History
Odds & Ends
Mail David

Sonning Bishop's Palace

Saxon & Medieval Bishops' Residence in Berkshire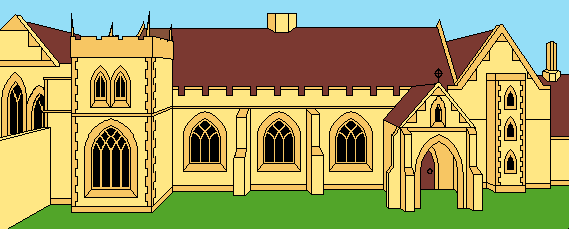 Little known today, Sonning was once the site of an extensive ecclesiastical complex centred around a vast Bishop's Palace. It stood in Holme Park and was excavated early in the twentieth century, when remains of the great hall, the private chapel and other rooms were discovered. The main buildings were surrounded on three sides by a moat, the western portion of which is still traceable. Further defences were added in 1337, when Bishop Robert Wyville of Salisbury obtained permission to crenellate the building.

The forerunners of the Bishops of Salisbury had no Cathedral, but two Bishop's Palaces, at Ramsbury (Wilts) and Sonning. The parish churches at these places would have been sort of proto-cathedrals: a piece of Saxon sculpture can still be seen built into Sonning Church tower. Though usually called Bishops of Ramsbury (Episcopi Corvinensis), these ecclesiastics were sometimes referred to as Bishops of Sonning (Episcopi Sunningenses). Occasionally they were styled Bishops of Wiltshire, or Berkshire, or both. None is more correct than any other. The Bishops of Ramsbury & Sonning were:

Aethelstan 909-927
St. Oda (of East Anglia), 927-952, later Archbishop of Canterbury (d.958)
Osulf 952-974
St. Aelfstan (of Abingdon) 974-981
Aelfgar 981-985
Sigeric 985-992, later Archbishop of Canterbury (d.995)
Aelfric 992-1005, later Archbishop of Canterbury (d.1006)
St. Bertwald (of Glastonbury) 1005-1045
Heremann (Chaplain to King Edward the Confessor) 1045-1078
who united the see with Sherborne, which later became that of Salisbury

Sonning Parish (& Minster) Church once had a chapel dedicated to "St. Sarik". It was in existance in c.1600 and may have been at the east end of the church, possibly on the site of the south chancel aisle. Variously spelt Sarik, Sarac or Siric, Sonning's saint apparently treated madness. He may have been Sigeric (otherwise Seric or Sirik) who was Bishop of Ramsbury & Sonning from 985 to 995. He was not a recognized saint, but two of his predecessors and one of his successors were canonized. In later life, he was made Archbishop of Canterbury and it was he who advised King Aethelred the Unready to pay the danegueld to the Danish Invaders. More likely, however, is the suggestion that Sarik be identified with St. Cyricus who was sometimes known as St. Carroc in Cornwall (though this may have been a different saint). He was a child martyr from Antioch (d.c.304), but was very popular in France, and had connections with lunacy. Abingdon Abbey had some of his relics. It is probable that one of the Bishops, possibly Sigeric who may have seen St. Cyricus as his patron, had acquired a relic for Sonning as well.

The Bishops of Salisbury continued to have a palace here right up until they sold out to Elizabeth I. She visited twice, but the place later fell into disrepair. It was from Sonning Palace that Bishop Roger (of Salisbury) left for the funeral of Henry I at Reading Abbey (1135). He travelled up the Thames in a state barge accompanied by many churchmen and worthies of Sonning. King John stayed at the palace, as a guest of Bishop Herbert Poor, for six days in September 1216. He had travelled from Reading and later went on to Wallingford. During his stay, some of the rebel barons met at Loddon Bridge, and not long after they paid up 240 marks (£160) for the release of William D'Albini, who had been captured at the Siege of Rochester and was being held at Sonning. In 1284, William Scammel was actually consecrated Bishop of Salisbury in Sonning Church. The Black Prince often visited the Bishop at Sonning while he was supervising his local estates. In about 1354, it is recorded that a fish called a whale caught in Le Mounts Bay was delivered to him there. In 1396, Isabella, the seven year old daughter of King Charles VI of France, married the Black Prince's son, King Richard II. Three years later, after the King's deposition, she was sent as a prisoner to Bishop Richard Metford of Salisbury who kept her confined in Royal splendour at Sonning. In the year of her eventual release, the Earls of Salisbury, Huntingdon, Kent and Rutland had attempted to place Richard back on the throne. They visited the young Queen and informed her of their intentions, but they were later captured and the plot came to nothing. The King's personal symbol was the white hart (from Rich-hart) after which the local inn was named. There is nothing to be seen of the palace today, though the 16th century Bull Inn may have been the Bishops' Guesthouse where St. Sarik's pilgrims stayed. It's name stems from the symbol of the Neville family: Sir Henry Neville was Elizabeth I's steward after she bought the manor. The Dean of Salisbury also had a house at Sonning (from c.1284 until the early 19th c.) and Deanery Gardens, a house by Edwin Lutyens, still remain north of the church.