Clewer Green

where the Knights of the Round Table roamed

Clewer Green was an area of common grazing land, south of Clewer Hill Road, historically used by the Clewer parishioners. It was there, that the widowed King Henry VII met Philip the Handsome, King of Castile (in Spain) and Duke of Burgundy in January 1506. The latter had been summoned to the Royal Court at Windsor Castle after he and his wife had been shipwrecked on the Dorset Coast whilst on their way from Spain to the Netherlands. Philip was somewhat anxious about the meeting, being uncertain of King Henryís motives. In the event, everything was very amicable. Philip was made a Knight of the Garter, but he did sign a number of English-biased treaties in return.

The St Leonard remembered by the hill now named after him, on the edge of Clewer Green, is said locally not to have been named after the well-known 6th century Frankish hermit, but a local holy man. Like his namesake, he was a recluse and resided in a cell, next to a chapel, which he had built for himself on the top of the hill. The first record to survive of this hermitage dates from 1215. It continued in use until the Dissolution, after which only the field name Eremytescroft or Hermitís Croft remained. The hermitage stood on the site of what is now the mansion on the Legoland estate, still called St Leonardís. The associated Holy Well was the spring that feeds the pond there. This was the site of the lost Domesday village (1086) of Losfield (probably a contraction of Leo[nard]ís Field).

The chapel was mentioned by Sir Thomas Malory in connection with King Arthur and his Knights of the Round Table. He claimed St Leonardís successor to have been one Sir Brastias. He was originally a knight of Duke Gorlois of Tintagel, the man with whose wife, Igraine, King Uther had fallen in love. Merlin magically turned Uther into the image of Gorlois and his bodyguard, Sir Ulfius, into Sir Brastias, so they could steal into Gorloisí castle. Uther was there able to seduce Igraine and thus Arthur, their son, was born. Sir Brastias served Uther, after Gorloisí death, but later retired to the Clewer Hermitage. Many years later, Sir Lancelot took to hiding out there during his turbulent affair with Queen Guinevere. He once visited Sir Lavaine nearby, while training for a tournament. It was not a happy time however. Lancelot fell asleep by St Leonardís Well, just as a lady and her hunting party arrived chasing a hind. She immediately shot the poor knight in the buttocks and rode off. The hermit spent many days nursing Lancelot back to health.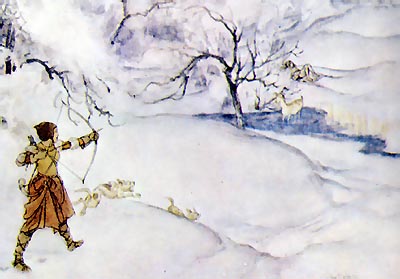 The famous lamp dug up on the site, and used by the Society of Antiquaries as their logo, is now thought to have belonged to the medieval hermit rather than previous Roman inhabitants. However, the ultimate origins of the chapel could still lie in this earlier period, for other Roman remains have been found on the hill. Dedications to St Leonard are often found in wooded areas. Some historians think they indicate where ancient pagan sites connected with the horned Romano-Celtic god of the countryside, Cernnunos, have been converted for Christian worship. This character may be connected with Maloryís lady huntress, but his association with Windsor Forest is better attested by his appearance in local folklore as Herne the Hunter, a hunt-leading ghost who supposedly haunts the Great Park.

In later years, the hill became the site of a royal hunting lodge, but, by 1756, this became a private estate and the country retreat of William Pitt, who later became the Earl of Chatham. In the 1770s, the house was purchased by the widowed Countess Waldegrave, daughter of Edward Walpole of Frogmore House. She called it Forest Lodge until she was able to get her secret marriage to King George IIIís brother, the Duke of Gloucester, accepted by Parliament, when it became Gloucester Lodge. The magnificent estate became known as St. Leonard's Hill under the 3rd Earl Harcourt and a new and extraordinary gothic style mansion was built by Lord de Barry in 1872. Unloved by later generations, it was partly pulled down in 1926 and the remains fell into ruin, some of which still survive.
Read more history of Clewer Green in David Nash Ford's book, 'East Berkshire Town and Village Histories'. Click to Order direct from the Author.
NEW BOOK

Whether you are from East Berkshire or just visiting, this book is the place to find out all about the history of some 126 different towns, suburbs, villages and hamlets around Windsor and Maidenhead, Slough and Bracknell Forest. Join David Nash Ford from berkshirehistory.com as he examines the structures, people and events that have shaped each place. Some of these histories were first published in part here on this website, but they have all been considerably expanded and are joined by many new histories of places often missed by historians, including those which only joined Berkshire in 1974 or later. Click for full details and purchase options.