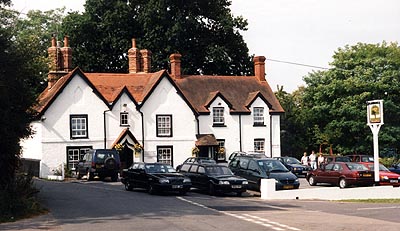 Finchampstead
Stopping Place for Kings & Queens
Finchampstead's parish church is largely of the 12th century and has an Anglo-Saxon font inside, but the site is older still. The building stands on a prominent hill within what is usually considered to be a Roman earthwork of some kind. It is probably the enclosure of a Roman temple which was later taken over for Christian use. It stands in an ideal position, just off the Devil's Highway running between Roman London and Silchester. Small stretches of this old Roman road survive as modern highways, notably along Roman Ride. Alongside the church is the Queen's Oak, the only inn of this name in the country. Stories of Roman remains beneath its floors have led to a claim of being the oldest pub in the country. Roman aisled buildings nearby are known from aerial photographs. Both may have been associated with the temple complex.
The old spring known as Dodwell's (or Dozell's) Well on Fleet Hill was named after the mid-7th century St Oswald, King of Northumbria. He apparently travelled through the village on his way to meet King Cynegils of Wessex at Easthampstead. Feeling thirsty, he prayed for water and this holy well instantaneously sprang up at his feet. It is recorded in the Anglo-Saxon Chronicle that this spring flowed with 'blood' (iron-rich water) in 1098 and 1102. Its fame for such occurrences happening at times of national disaster continued throughout the early Middle Ages. It was generally said to have curative powers and was visited by pilgrims. The well was accidentally destroyed in 1872 by deepening of the adjoining ditch. A plaque opposite the entrance to Constant Spring Cottage records its past importance.
From the late 13th century, the parish contained two manors, after the lands of the local lord, William Banister, were divided between his two daughters. Constance took East Court, which stood at the centre of the old medieval village near the church, where the Victorian 'Manor House' now stands. Agatha had West Court at Finchampstead Leas. In 1452, East Court was purchased by the Pakenhams. An old story about this manor house during the Tudor era probably refers to the two daughters of Sir Edmund Pakenham. It is said that King Henry VIII was a frequent visitor to the manor house as he had amorous designs on the younger of these sisters. The elder one, however, was madly in love with the King herself and threw herself off the balcony in front of him in order to prevent her rival becoming Queen of England. Of course, neither Pakenham sister actually committed suicide.
Prince Arthur is supposed to have been hunting on the Ridges at Finchampstead with his father, King Henry VII, when he heard of the arrival in England of his fiancée, Princess Catherine of Aragon. They immediately rode out to meet her, but found their way barred by a party of Spanish cavaliers who insisted that, according to Spanish tradition, the Prince could not look upon his bride until after they were married. The King, however, rode on to Dogmersfield Park (Hampshire), where the lady was staying, and arranged for her coach to ride along the Ridges, where Catherine raised her veil for her waiting groom. The marriage was thus cursed for breaking this sacred convention and Arthur died not long after exchanging vows. A plaque in Longwater Lane now commemorates these events.
Today the most famous feature of Finchampstead Ridges is the Wellingtonia Avenue, leading to Wellington College in Crowthorne. This superb double row of Wellingtonia trees was planted by John Walter III of Bearwood (and the Times Newspaper) as a monument to the 1st Duke of Wellington in 1869.
Read more history of Finchampstead and other nearby settlements, like California, Lower Finchampstead & the Leas, in David Nash Ford's book, 'Mid-Berkshire Town and Village Histories'. Click to Order direct from the Author.
NEW BOOK

Whether you are from Mid-Berkshire or just visiting, this book is the place to find out all about the history of some 113 different towns, suburbs, villages and hamlets in the Boroughs of Reading and of Wokingham and the eastern portion of the District of West Berkshire. From Streatley to Padworth and Ruscombe to Finchampstead, join David Nash Ford from berkshirehistory.com in his second volume examining the structures, people and events that have shaped each place. Some of these histories were first published in part here on this website, but they have all been considerably expanded and are joined by many new histories of places often missed by historians, including those which only joined Berkshire in 1911 or later. Click for full details and purchase options.