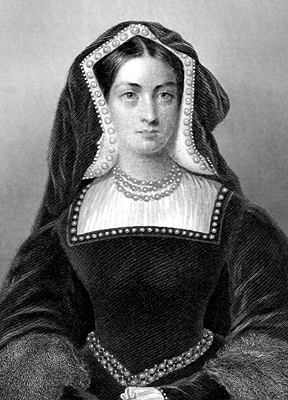 Catherine of Aragon (1485-1536)

Born: 15th December 1485
at Alcala de Henares, near Madrid, Spain
Queen of England
Died: 7th January 1536 at Kimbolton Castle, Huntingdonshire
Catherine of Aragon was the youngest daughter of two monarchs, King Ferdinand II of Aragon and Queen Isabella of Castile & Leon. Her parents marriage had united their kingdoms to form the country of Spain that we know today. Born at Alcala de Henares in December 1485, she was only two years old when King Henry VII of England approached her parents concerning the possibility of her marrying his eldest son, Prince Arthur, who was nine months her junior. A marriage treaty was eventually agreed in 1500.
In 1501, Catherine and her wedding party travelled to England. Spanish tradition held that her betrothed should not set eyes on her prior to their union, so she stayed with the Bishop od Bath & Wells at Dogmersfield Park in Hampshire. Legend has it, however, that Prince Arthur was so keen to see his bride that he had his father arrange a private viewing while she was out hunting on Finchampstead Ridges nearby! The two were married at Old St. Paul's Cathedral in London on 14th November 1501. Catherine was escorted to the wedding by her future brother-in-law (and eventual husband), Prince Henry, who was then only ten years old.
Prince Arthur had been given the important position of Leader of the Council of the Welsh Marches. So immediately after their nuptials, the newlyweds set out for the Welsh border, taking up residence at Ludlow Castle. Unlikely as it seems, the Royal fifteen-year-old may never have consummated their marriage. His bad health could have prevented this, for Arthur was stricken with tuberculosis and almost certainly infected with syphilis following some unwise youthful activities. Though, of course, he bragged extensively of having "spent the night in Spain," Catherine always maintained that she was still a virgin at the time of her marriage to Henry VIII. She was a lady of the highest integrity, so that we must, at least, assume that she believed this to be the case.
The Salopian winter weather and draughty conditions of a medieval castle did nothing to improve Prince Arthur's physical condition and, on 2nd April following, they finally killed him. Catherine became known as the Dowager Princess of Wales. She was, almost immediately, suggested as a future bride for the next heir to the throne, his brother, Prince Henry; or, even more surprisingly, in early 1503, as a wife for her widowed father-in-law, King Henry VII. It was the former match, however, which found favour and the marriage treaty was signed on 23rd June 1503, a papal dispensation for the joining of sister-in-law and brother-in-law being obtained from Pope Julius II the following year. Action then slowed, however, for Henry VII was in no hurry to conclude the marriage itself. He kept Catherine in penury in England, while keeping his options open by searching Europe for an even more advantageous match. The lady even had to apply to her father for money to pay her household expenditure.
It seems that prince Henry himself was, however, madly in love with the tall blonde Catherine and was eager for the wedding to proceed a pace, despite statements made by his father to the contrary. Upon Henry VII's death in 1509, the new monarch moved quickly to finalize matters and the wedding took place at Greenwich on 11th June. The two were crowned in Westminster Abbey only two weeks later.
The couple's first child was, unfortunately, born prematurely and stillborn at the end of January 1510. Almost exactly a year later, however, Catherine gave birth to a baby son. They called him Henry and his arrival was celebrated with tournaments and jousts. Sadly, he lived for only two months. Two further children did not survive; but, in February 1516, a baby girl, named Mary, was born. Catherine had three further pregnancies, but only Mary lived to see adulthood.
In the meantime, Catherine had also been active in matters of Government. When her husband traveled to the Continent on his French campaign of 1513, Catherine was made 'Governor of the Realm' and 'Captain-General of the Forces,' effective Regent during King Henry's absence. She led the English troops against the invading Scots at the Battle of Flodden (in Northumberland) and, afterwards, sent over to her husband, in Flanders, a grim reminder of her achievements there: the blood-stained tunic of dead James IV of Scots. In 1520, however, the Queen went to France alongside Henry and was present at the great meeting of the 'Field of the Cloth of Gold'.
By 1525, the likelihood of Catherine providing Henry with a male seemed rather remote. The Queen was now forty and her looks were fading. Though Henry VIII loved her still, the energetic monarch was six years her junior and his eye began to wander. He soon became infatuated by a young gentlewoman at Court by the name of Anne Boleyn. She refused to become Henry's mistress and the need for an heir soon led to thoughts of divorce. The King and Queen ceased living together in 1526 and, the next year, the complicated divorce process commenced. Henry was advised to try for a Papal annulment, since their were strong arguments against the marriage of a man and his sister-in-law. Catherine, of course, had strong support in Europe, especially from her nephew, the Holy Roman Emperor and King of Spain. His influence in Rome was key to persuading the Pope to refuse to set aside the original marriage dispensation. The only path left open to King Henry seemed to be a complete break with the Roman Catholic Church, a move that suited the reforming mood of many in England. Parliament and a compliant Archbishop Cranmer were thus able to declare the Royal marriage null and 'utterly dissolved' without any interference from the Pope. Catherine received the news at Easthampstead Park, in Berkshire, to which she had already withdrawn. Henry seems to have felt sorry that things had ended in such a mess. He frequently expressed his regret at having to "put her away" and always referred to Catherine as "so good a lady and loving companion".
Catherine was immediately deprived of her titles as Queen of England and was forced to revert to 'Princess Dowager of Wales'. The Princess Mary was taken from her in 1531 and Catherine was hidden away from Court at Moor Park and then the Bishop Palace at Hatfield, both in Hertfordshire. Movement was constant, for she enjoyed great popularity throughout a Country which was still Catholic at heart; and there were fears of an uprising in her favour. She may have drawn some satisfaction from the knowledge that the Pope had validated her marriage, on 23rd March 1534, and this, no doubt, encouraged her to refused to acknowledge the Act of Succession which made her daughter a bastard and Anne Boleyn's children heirs to the throne.
The old Queen's spirit remained forever unbroken. After an illness lasting about a month, she finally died in January 1536, at Kimbolton Castle (Huntingdonshire) where she had been confined. It was, of course, rumoured that she had been poisoned, but examination of the embalmer's account indicates that she died of a secondary melanotic sarcoma. Her heart was "quite black and hideous to look at" with a "black round body stuck to the outside". Her other organs were "as healthy and normal as possible", so the embalmer could not have recognised the existence of the primary cancerous growth. At the age of forty-nine, Catherine was buried in Peterborough Cathedral. Today, a black marble slab covers her grave, erected in Victorian times, through the subscriptions of 'English ladies bearing the name of Catherine'.