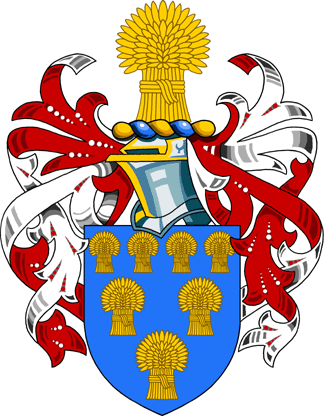 The Dolman Family
of Newbury & Shaw, West Berkshire
The Dolmans were an eminent family of clothiers at Newbury, who appear to have migrated south from Pocklington, in East Yorkshire, in the fifteenth century. The 'Dole Man' was responsible for maintaining parish boundary markers and looked after the 'Dole,' an area of commonland. The first to settle in Berkshire appears to have been William Dolman or Doleman, to whom Jack O'Newbury bequeathed £10 by his will, "besides all things of his covenants," from which we may infer he was a partner, or had some interest in the business.
William's son, Thomas, apparently set up his own business in Newbury and was so successful that he became a rival to Jack's family, the Winchcombes. He is mentioned in contemporary records as an eminent clothier in the town and, by 1551, he had enough money to purchase the manors of Shaw, Speen and Colthrop in Thatcham. His name appears in the list of gentry of Berkshire from 1559 to 1565. He died in 1575 and was succeeded in his estates by his three sons: John, Thomas and Mathias.
The youngest, Mathias, was a wealthy haberdasher - a vendor of clothing accessories - living in the City of London where he was warden of their guild. He inherited the manor of Stanton in Gloucestershire. At least two more generations of the family continued in London. The eldest son, John, may have fallen out with his father at some point, for he was not left his major estates as might be expected. These were to go to the middle son, Thomas. John was only given Frethorne's Manor in Childrey, but he contested the will and won the case. So Thomas had to buy out John's majority share. Although John was a successful lawyer and a member of the Inner Temple's 'parliament', his chief love was the study of the Classics. He was a well-known scholar and, in 1561, translated, into English, Cicero's treatise on good and evil known as the 'Tusculan Disputations'. It was great influence on many writers of the age, including Shakespeare. He apparently married twice and had at least one son, Thomas, who moved to Great Barr in Staffordshire, selling Frethorne's in 1646.
The second Thomas Dolman built the magnificent Shaw House in 1579/81 and retired from trade, exciting the disappointment of his employees and the envy of his neighbours, which has been perpetuated in the doggrel couplet: "Lord have mercy upon us, miserable sinner, Thomas Dolman has built a new house, and turned away all his spinners." He settled to the life of a country gentleman and was granted a coat of arms in 1587. It featured sheaves of wheat, perhaps a representation of the land his ancestral 'dole man' marked out. Thomas was appointed Sheriff of Berkshire two years later. He married into the great Forster family from Aldermaston House and had a family of three children: twin, Humphrey and Dorothy, and a younger son, Thomas. The family entertained Royalty at Shaw on a number of occasions: Queen Elizabeth I, King James I and Queen Anne (of Denmark) twice. His wife died in childbirth and Thomas remarried soon afterwards. Shortly before his death in 1622, there are records of both the early payment and reduction of his second wife's inheritance. One wonders what had happened.
Thomas Junior was an extraordinary character, who, along with many English soldiers, went to fight for the Dutch. He was in teh Netherlands during the Civil War and no-one really knows where his loyalties lay. He certainly negotiated with the Dutch for Cromwell. He had a son and namesake, but further generations are unknown. Humphrey, the eldest brother who inherited Shaw, though not as active as Thomas, seems to also have had parliamentary sympathies. As Sheriff of Berkshire in 1635, he probably turned against the King after he was forced to collect the unpopular 'Ship Money' in the county. It was usually only collected on the coast and became a major catalyst for the Civil War that exploded seven years later. Humphrey had married Anne Quarles, the daughter of an associate of his Uncle Matthias, and together they had raised a son and two daughters. The son, another Thomas, opposed his father's views and was a great Royalist. He welcomed the King's army to Shaw House at the age of only twenty-three, when it became the centre of the 2nd Battle of Newbury in 1644. It is traditionally reported that "King and Law" having been the password agreed on the night before the battle, in the heat of the fight, next day, Young Dolman forgot it and the had to be reminded by a senior officer (sometimes erroneously said to be the King himself) who then gave him orders to shout it to the soldiers. This caused such a volley of shot to be poured in upon the Parliamentary army that they were routed from the garden at Shaw, and the battle was turned in the King's favour. The motto "King and Law shouts Dolman of Shaw" is still retained by the family.
Thomas Dolman was knighted the year after the Restoration and was elected MP for Reading. He entertained Charles II and his brother at Shaw two years later. His father had by this time long retired from public life. He died in 1666. In 1677, Sir Thomas was appointed Clerk to the Privy Council and he soon became embroiled in the investigations into the supposed 'Popish Plot' to depose King Charles. He was called as a witness at the trial of Edward Coleman and sat on the committee investigating the murder of the trial judge. At the trial of Sir George Wakeman, he bore witness that the famous Titus Oates' testimony may have been in error due to his extreme tiredness. In 1685, he resigned his post and retired to Shaw upon the accession of James II, whose Catholic policies he disapproved of. He died in 1697 and was buried in Shaw Church where a large ledger stone to his memory can still be seen, now relegated to the churchyard.
Of the four sons and two daughters of Sir Thomas and Lady Dolman, the eldest son, Humphrey, had predeceased his father at the age of only thirty-five. So yet another Thomas inherited Shaw House and threw himself completely into Berkshire life. He was appointed a colonel in the Berkshire Militia and Deputy-Lieutenant for the county, as well as being elected MP for Reading like his father. He sold Colthrop in 1707, but undertook much building work at the family home at Shaw and entertained William of Orange there on his march to London to take the Throne as William III. Queen also later visited him and he was knighted for his excellent hospitality. He married the widow of the Windsor Herald, Henry Ball, but they had no children and Sir Thomas had to make extensive arrangements for the descent of Shaw House which embodied the family heritage he so loved. He had hoped the sons of his brother Lewis, a London doctor based near Charing Cross, would inherit. However, in the event, they predeceased him and their sister Dorothy took the house. Her spendthrift husband quickly sold up and the Dolmans association with Berkshire came to an end. Sir Thomas had died in 1711. He is buried under a handsome mural monument in Shaw Church.
The Dolman arms do not appear to have ever had any quarterings. The family feature in the Heralds' Visitations of Berkshire for 1623 and 1665/6. There are six Dolman wills and two administrations listed in the records of the Archdeaconry of Berkshire between 1508 and 1710. There are eight Berkshire wills listed in the records of the Prerogative Court of Canterbury. The Dolmans married into the families of Forster of Aldermaston, Blagrave of Bulmershe in Earley, Weston of Winterbourne in Chieveley and Hook of Hook in Nately Scures (Hampshire).