Bucklebury & its Owners
The Winchcombe, Packer & Hartley Families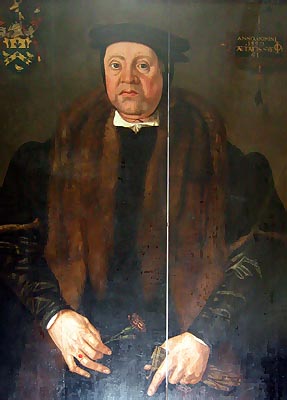 For many centuries previous to the Dissolution of the Monasteries, the Manor of Bucklebury formed part of the extensive possessions of the mitred Abbot of Reading, who presided over one of the richest monastic foundations in the Kingdom. On the suppression of the religious houses, it was then granted with the adjoining manor of Thatcham and the revenues of these churches, to John Winchcombe, son of the famous clothier of that name, popularly known as Jack of Newbury.
This worthy, Jack of Newbury, whose name and deeds are of worldwide celebrity, is said to have been a native of Winchcombe, in Gloucestershire, in the registers of which parish are entries referring to the family of Smallwood, or Winchcombe, his adopted name. This family was long associated with the cloth manufacture in Gloucestershire, and there is good reason to believe, came of the same stock as John Winchcombe, the merchant-prince of Newbury. This branch is now represented by the illustrious house of Clifford of Frampton-on-Severn, one of the family, Nathaniel Winchcombe, being lineally descended from the Cliffords, whose name he assumed by royal license.
The grant of Bucklebury to John Winchcombe, including the manor of Thatcham, is dated 1541, the consideration money being £2,619-13s-4d. it cannot therefore be said that the grantee, like numerous others, shared very largely in the spoils of the alienated church lands on very easy terms. This John Winchcombe, probably owing to the patriotic zeal of his renowned father, commanded considerable influence at the court of King Henry VIII, and was an important and opulent person, living at Newbury, where he continued to reside until his death. He represented the borough of Reading in Parliament, in 1552-3, and held considerable estates in this county, including the manors of Ginge, Lockinge and Frampton, in East Hendred, and the manor of Farnborough, which had belonged to Abingdon Abbey, but was purchased by Winchcombe from Edmund Fettiplace in 1543.
On acquiring the Bucklebury estate, the grantee took down the ancient Grange, which had been so long associated with the great ecclesiastical body at Reading, who owned nearly all the property in the Kennet Valley, and built the country gentleman's mansion which stood on this memorable spot for so many generations. He died, probably before the house was fully completed, on 2nd December 1557, and was buried in St. Mary's Chantry Chapel in Newbury Church, his distinguished father's desired resting-place.
John Winchcombe, son of the grantee, who first went to reside at Bucklebury House, is described in 1559, as one of the gentry of Berkshire, and served the office of High Sheriff of Berks in 1569. From the Inquisition taken on his death in 1574, we learn that he held upwards of 3,000 acres of land in this county, and the advowsons of Bucklebury, Thatcham and Lockinge. He left a son, John, who was eighteen at his father's death, but apparently did not live to attain his majority.
The Winchcombes also had an estate at Noke, near Islip, in Oxfordshire. There was a family chapel on the north side of the Chancel of the Church, erected by Joan, wife of Henry Bradshaw, for herself and her descendants of the Winchcombe family, her grandson, Benedict Winchcombe, being then lord of the manor. He died in 1623 and was buried in the chapel beneath an altar-tomb surmounted by his recumbent effigy in black marble. The chapel has been destroyed, but in the chancel still remains the mutilated effigy of Benedict Winchcombe. Henry Bradshaw, husband of the foundress of the chapel, was Lord Chief Baron of the Exchequer in 1553.
The Manor of Henwick at Ashmore Green was also held by the Winchcombes, and was originally, like Bucklebury, a residence of the Abbots of Reading - the names of the 'Abbots' Grove' and the 'Abbots Graffe' still recording its early connection with the monastic regime. The Winchcombes had continued members of the 'Old Religion' and John Winchcombe, of Henwick, grandson of the grantee of the Manor of Bucklebury, was an ardent member of his church. His name is reported by Robert Weston, one of the Government spies and informers, in 1591, as a receiver and harbourer of proscribed priests and others at his house at Henwick.
In a report of Weston's, dated 20th April 1591, describing certain priests known to him and where they were in the practice of resorting, he says: "As you go forth of Mr. Winchcombe's house towards Newbury, in the first close without the gate upon the left hand in the hedgerow, there is a great oak that is hollow, and by knocking upon it you shall find him to sound, and if he (the priest) be not in the house you shall find him (there). In a gallery going through the hall at the table, on the right hand up a great pair of stairs there is the gallery where his souse (a pickling trough for pigs) doth lay there is a press where all the Church stuff (vestments and vessels) doth lay." What a picture of the times!
Francis Winchcombe was the next owner of the Manor of Bucklebury. He was brother of John Winchcombe, who died under age, and served the office of High Sheriff of the County in 1590, and again in 1606. He settled the greater part of his property in favour of his son, Henry, and his heir's male. He died at Bucklebury on 3rd January 1619.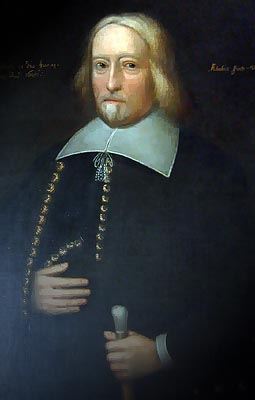 Henry Winchcombe, successor to his father, Francis, married Mary, daughter of William Wollascot, of Woolhampton, and, with his brother, William, was, by the influence of Archbishop Laud, when they were students at Oxford, brought into conformity with the Church of England, as appears by the Archbishop's defence to the charges formulated against him previous to his trial and execution.
On the death of Henry Winchcombe in 1629, and who was buried at Bucklebury, an Inquisition was taken at Reading, when it appeared that besides the Bucklebury and other estates he was entitled to the manor of Little or East Shefford, and Wickfield Farm, expectant on the death of Lady Clarke, formerly the widow of William Winchcombe, another son of Francis Winchcombe, and elder brother of Henry Winchcombe. There is a monument to William Winchcombe in Little Wittenham Church, Lady Clarke being the daughter of Edmund Dunch, of this place, and married, as her second husband, Sir Edward Clarke, of Ardington.
Upon the death of Henry Winchcombe, he was succeeded by his son and heir, Henry, then of the age of eight years and, being a minor, the estates came into the King's hands. He married, when a little over nineteen years of age, Elizabeth Miller, only daughter and heiress of George Miller of Swallowfield. He died in April 1643 and was buried at Bucklebury. Bucklebury has many associations with the great Civil War, and just before the Second Battle of Newbury, the Parliamentary army, consisting of over 20,000 men, under the command of Manchester, Cromwell, Waller, and other prominent leaders, was encamped on the west end of the Common, previous to their advance on the heights above Shaw.
The Winchcombes suffered much for their loyalty to King Charles I and one of them - John Winchcombe of Newbury, a recusant and malignant - was a very active and resolute Cavalier. His estates in Berkshire and Somerset were sequestrated and, after the surrender of Newbury to Parliament, he sought shelter in Wales, where many of his descendants can still be traced. Several skirmishes took place between the opposing forces on the Common, and, in the Spring of 1644, there was a sharp encounter about half-a-mile south of the Bladebone Inn, on or near a piece of land called the 'Forties,' probably from some association with the fight.
There are several entries in the parish registers as to the burial of soldiers - one of whom is recorded as having been "a soldier of the King" slain at Chappell Row. There also lies, in Bucklebury Churchyard, Lieut. Richard Warde, an officer of the Parliament. Guy Carleton, afterwards Bishop of Chichester, was Vicar of Bucklebury at this time and, being a very pronounced Royalist, was seized and imprisoned in Lambeth Palace, whence he escaped by letting himself down through a window into a boat on the Thames, by a cord secretly conveyed to him by his wife. The old Vicarage is still standing on the western side of the churchyard.
Resuming the thread of our narrative - Henry Winchcombe, the third in succession, was an infant of about six months old when his father died. He too, as his father had done, contracted an early marriage and died a young man. His wife was Frances, daughter of Thomas Howard Earl of Berkshire, and was the foundress of the Blue Coat School at Thatcham. He was created a baronet in 1661, in consideration of the loyalty of his family; and died at the age of twenty-six in 1667, leaving his wife, Lady Frances Winchcombe, and one son, Henry Winchcombe, surviving him.
Henry, the fourth in succession, was born in 1660, and at the time of his father's death was about seven years old. During his minority, the manor was held in trust by various persons. Among those acting as lords of the manor were Thomas Howard, William Backhouse, Richard Aldworth, Sir William Terrington and Dr. Francis Hungerford. In 1681, Sir Henry Winchcombe, 2nd baronet, came of age, and entered into possession of the estate. He married twice. His first wife was Elizabeth, daughter of the aforesaid Dr. Hungerford of Reading, descendants of the great Wiltshire family of that name; and secondly Miss Elizabeth Rolls. By his first wife, he had one son, Henry, who predeceased him, and three daughters, namely, Frances, Elizabeth and Mary. By his second wife, he had a daughter, Henrietta. Sir Henry represented Berkshire in Parliament in 1688-9 and, although blind from his youth, took an active part in the affairs of the country. In 1699, he settled the manor of Bucklebury and other estates to the use of himself for life with remainder to Elizabeth his second daughter, and her heirs.
Sir Henry Winchcombe, the last baronet, died in 1703, and on his monument in Bucklebury Church, erected by his three daughters, there is a touching Latin inscription recording that "His eyes having been lost in youth, neither to public or to private duty was he wanting. He served the interests in Parliament of his country, at home, of his friends. By promoting these he consoled himself for his calamity, and in tilling his fields, in repairing his property, he enjoyed himself in the country, truly with a great mind, zealously cultivating those things whose fruits he could not perceive in himself. To the best of parents Frances, Elizabeth, Mary, heiresses by his will, this monument is here placed."
Elizabeth Winchcombe was therefore the next owner, and her name appears as Lady of the Manor in 1705. She did, not live long to enjoy her property, for she died on 7th September 1705, at the early age of twenty-three, and was buried in Bucklebury Church, where there is an inscribed gravestone over her remains. It was this young lady who is thus alluded to by Philips in his poem on 'Cyder,' formed on the Georgies of Virgil:
"Such heats prevail'd when fair Eliza, last of Winchcombe's name
(Next thee in blood and worth, O fairest St. John),
Left this toilsome world in beauty's prime, and sadden'd all the year.
Nor could her virtues, nor repeated vows of a thousand lovers
The relentless hand of death avert.
She with the vulgar fell, only distinguish'd by this humble verse."
(The "great heats" is an allusion to the tropical heat of 1705.)
Interesting as Bucklebury is, from its association with the important religious foundation at Reading, and as the residence, in after years, of the Winchcombes and their successors, the old manor house derives its chief world-wide interest from the fact that it was for some time the home of the celebrated Henry St. John, first Viscount Bolingbroke, who married, for his first wife, Frances, daughter and co-heiress of Sir Henry Winchcombe. It was here that he penned some of his most famous prose works. This eminent statesman, diplomat and litterateur, happily designated by the late Lord Carnarvon 'The English Alcibiades,' appears to have had great affection for the natural beauties of this secluded spot. In a letter, dated 15th May 1711, from Bucklebury, he thanks his friend, Drummond, for some bay trees imported, and desired to know of their arrival, "that I may have one of my gardeners ready to take them out of the ship and convey them to Bucklebury"; and adds, "I cannot plunge myself so far into the thoughts of public business as to forget the quiet of a country retreat, whither I am always ready to go at an hour's warning." In another letter from Bucklebury to a correspondent whose name is not preserved, an amusing glimpse is given of the bibulous habits then prevailing in a country gentleman's establishment. "Dear Tom," says Bolingbroke, "I never was more vex'd in my life than when I rose this morning to find ye servants I had order'd to attend you in ye morning had been drunk all night and neglected to wait on you. I have sent them a-grazing, and I ask yr pardon for ye ill-usage ye had."
There are several other interesting letters written from Bucklebury in the Longleat Collection of manuscripts and, in one of these to the great Robert Harley, St. John thanks him for "those kind comprehensive wishes which you bestow upon one. In this obscure and private life I am perfectly easy, and shall with ye same ease return to ye service and business of an active public life whenever ye service of my country or of my friends calls me forth." Writing again to his friend, Harley, he wishes him "perfect health and good weather, two articles of no small importance, to ye satisfaction and joy of life." The life at Bucklebury may without doubt be called Bolingbroke's quietest and happiest time. In the peaceful years of that residence in this retired situation from whence he was accustomed to contemplate and admire the works of nature, this distinguished man received visits from the most eminent of his contemporaries, including Harley, Pope, Swift, Prior, Gay, Arbuthnot and other members of this coterie, of "all the talents."
In these old gardens many a beau and belle must have promenaded in the days of 'Good Queen Anne,' and our early Hanoverian sovereigns, with wig, lappets and gold-headed cane, or in stiff brocaded bodices, with flounces and furbelows. We can almost see Alexander Pope's lean figure walking with the author of the most satirical romance the world has ever seen - "Gulliver's Travels" - along the old pleasance to enjoy a pipe on the little islet in the middle of one of the ancient fish ponds, which village tradition ascribes as Bolingbroke's most favourite resort. Surely there is scarcely a spot in England where so much literary talent centres as this.
Jonathan Swift, in a letter to "Stella," gives the following account of a visit to his friend Bolingbroke at Bucklebury: "Mr. Secretary was a perfect country gentleman at Bucklebury; he smoked tobacco with one or two neighbours; he enquired after the wheat in such a field; he went to visit his hounds, and knew all their names; he and his lady saw me to my chamber just in the country fashion. His house is just in the midst of £3000 a year he had by his lady, who is descended from Jack of Newbury, of whom books and ballads are written; and there is an old picture of him in the room." This refers to the portrait of his son, painted in 1550. Owing to the course he had taken in Queen Anne's reign, Bolingbroke, upon the accession of George I, was attainted of high treason and deprived of both his estates and titles. He escaped to France, where he entered the service of the Pretender, but was again unsuccessful. In 1723 he contrived to make his peace at home, and was restored to his estates, but never to his titles. The lethalis arundo, the poisoned arrow that rankled in his heart, was his degradation from the House of Lords.
His wife died in 1718, and he appears never to have revisited Bucklebury. After several years of able hostility to Walpole, he renounced politics, and again returned to Prance, but upon his father's death came back and lived at Battersea. During the latter part of his life he employed his great abilities in preparing a grand attack on religion. He was looked upon as the Goliath of his party, and great were the vaunts of the wonderful feat he was about to perform. But there was lying in wait for him a champion of whom he had already had some slight experience, enough to make him hesitate. So he delayed the work, and in fact it was not published until 1753, two years after his own death. Bishop Warburton then placed Bolingbroke's philosophy and reputation in the light it has since stood, which is this - that though there is much in his works to mislead the people, there is nothing in them to alarm the scholar. Mary, the younger sister of Viscountess Bolingbroke, married Robert Packer of Shellingford, and thus the Donnington Castle estate became merged in that of Bucklebury.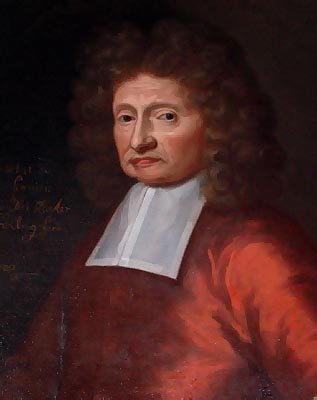 Mr. Robert Packer was MP for the County of Berkshire in the Parliaments of 1710-13-15-22-27, succeeding to the first on the elevation of his brother-in-law, the Rt. Hon. Henry St. John, to the peerage. He resided at Shellingford, where there are some remains of the fine old manor house. The manor at Bucklebury had been settled by Elizabeth Winchcombe, in 1705, to the use of Henry St. John for his life, with a power of appointment to his wife Frances, and in default of appointment to her and her heirs and assigns. She exercised her power of appointment in 1717, and assigned the manor after the decease of herself and her husband to her first and other sons in tail, and for want of such issue to Winchcombe Howard Packer and the heirs male of his body, remainder in fee to her own light heirs. Lady Bolingbroke died without issue, at the age of thirty-eight, and is buried in Bucklebury Church, close to the chancel rails.
Mr. Winchcombe Howard Packer, who resided principally at Donnington Castle House, like his father, represented this county in Parliament. He received many of the chief wits and celebrities of the day at the Castle House, one of whom in a birthday-ode describes him as the "Patriot, generous, and humane." He died at his town house in Golden Square, then a fashionable locality, at the early age of forty-four, in 1746, and was buried at Bucklebury.
Henry Packer, brother of Winchcombe Howard, was the last male heir of the Packers, and dying two months after his brother, at the age of thirty-eight, devised the Bucklebury and Donnington Castle estates to the son of his sister, Elizabeth - Winchcombe Henry Hartley.
Mr. Hartley was the son of David Hartley MD, FRS, philosopher and physician, by his second wife, Elizabeth Packer, daughter of Mr. Robert Packer, of Shellingford Manor and Donnington Castle House, by Mary, his wife, daughter and co-heiress of the last Sir Henry Winchcombe, Bart. Dr. Hartley was a man of singular simplicity and amiability of character. Among his friends were Bishops Butler, Law, Warburton and Dr. Jortin, Dr. Hales and Hooke the historian. In 1749, Dr. Hartley published his 'Observations on Man: his Frame, his Duty and his Expectation,' which embraced a treatise on "The Progress to happiness Deduced from Reason." Hartley's chief aim was purely ethical and his discussions on the gradual development of pure benevolence from the simpler passions are interesting. Priestly was his enthusiastic admirer and, in 1795, published an abridgement of his work. Coleridge in his "Religious Musings," calls "Hartley, of Mortal kind Wisest, he first who marked the ideal tribes Down the fine fibres, from the sentient brain Roll subtly surging."
The name of Hartley Coleridge testifies to the same enthusiasm. David Hartley, son of Dr. Hartley, by his first wife, and half-brother of Winchcombe Howard Hartley, was an intimate friend of Benjamin Franklin and represented Hull in Parliament (1774-1780), where he obtained considerable reputation as an opponent of the war with America, and of the African slave trade. Owing to his consistent support of Lord Rockingham, he was selected by the Government to act as Plenipotentiary in Paris, where, on 3rd September 1783, he and Franklin drew up and signed the definite treaty of peace between Great Britain and the United States of America. In 1785, he published an 'Account of a Method of securing Buildings and Ships against Fire,' by placing thin sheets of iron under the floors and attaching them to the ceiling to prevent the immediate access of the fire, and to stop the current of air. David Hartley died in Bath in 1813, in his eighty-fourth year. On Putney Heath is an obelisk erected by the Corporation of London, in 1776, commemorating Mr. Hartley's experiments. Fanny Burney describes the Belvedere, where the Hartleys lived, as a "most beautiful spot, upon a high hill, at one of the extremities of the town of Bath, commanding an enchanting view of the Avon and all the surrounding country.
Miss Mary Hartley, sister of David Hartley, was a lady universally known and admired for her accomplishments in literature and the fine arts, and the friend and correspondent of Mrs. Montagu, Hannah More, Mrs. Carter, the English Dacier, Mrs. Chapone, Fanny Burney, and all the chief literary celebrities of the day. Her letters to Sir William Weller Pepys, Bart., Master in Chancery, 1758-1825, Were published in 'A Later Pepys,' by Alice C. C. Gaussen, in 1884 - a very interesting volume, which contains a portrait of Dr. Hartley from the original by Shacklewell, and of David Hartley, MP, painted by Abbot, and now at Bucklebury. There are also many other historic and interesting portraits in possession of the family.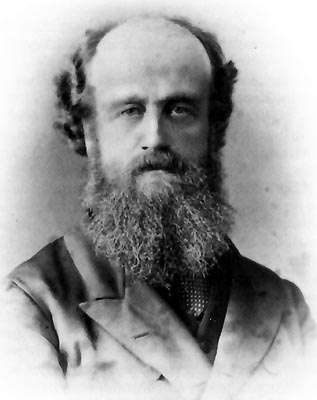 Mr. Winchcombe Howard Hartley, who was Colonel of the Royal Gloucestershire Militia, and MP for the County of Berkshire in the Parliaments of 1774-80-90, died in 1794, leaving an only son, the Rev. Winchcombe Henry Howard Hartley, Vicar of Bucklebury. Mr. Hartley died in 1832, leaving a son, Winchcombe Henry Howard Hartley, Colonel of the Gloucestershire Militia, and High Sheriff of Berkshire in 1838, also a daughter, Elizabeth Ann, who married the Count de Palatiano, a Greek noble, who fought in the War of Independence.
Shortly after Mr. W. H. H. Hartley came into possession of the manor, in 1833, the grand old Elizabethan house having been found to be somewhat out of repair and damaged by fire, was pulled down, and the materials sold by auction. It was described as a spacious mansion, consisting of a centre with wings on either side, the rooms being large, and ornamented with panelling and carved oak chimney-pieces extending to the ceilings. There was also a long picture gallery like that at Littlecote in Wiltshire and other houses of the Tudor period. The remains now left are a small portion of the wings, and a spacious and lofty kitchen, said to have been added by Lord Bolingbroke, and a coach-house with extensive stabling. On the death of Mr. Hartley in 1881, the estates in Berkshire and Gloucestershire descended to his co-heiresses - the Countess de Palatiano, Mrs. Webley-Parry, Mrs. Acreman White, and Mrs. Charles Russell, but a partition of the estates was carried out in 1906. [Since that time the families of each of these ladies have been lords of the manor in turn. The title now being held by Mr. Willie Hartley Russell whose father restored the remains of the old mansion to form the present Bucklebury House in the late 1950s.]
Edited from an old booklet extracted from Arthur Lee Humphreys' 'Bucklebury, A Berkshire Parish: The Home of Bolingbroke 1701-1715'(1932)
All portraits reproduced by kind permission of Mr. Willie Hartley Russell.