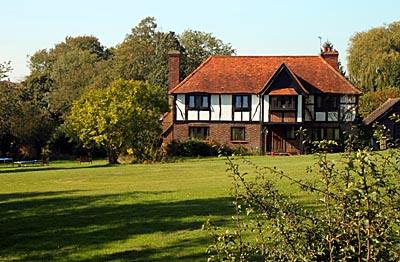 Ashmore Green
Sounds of Psalm Singing
Ashmore Green was originally part of Thatcham parish but, since 1865, has been in Cold Ash. The name is probably Saxon, meaning "Ash Tree covered Moor". Sacred to the Saxon God Woden, Ash trees were common in Berkshire and the word is used in many place-names.
Henwick Manor was the site of a deserted medieval village of the same name. The name itself is interesting, for it may be Celtic Hen-Vicus, or "Old Roman Settlement". Sadly no evidence of Roman occupation has come to light from this particular area, though Thatcham was a minor Roman town.
A younger branch of the descendants of Jack O'Newbury, the Winchcombes, held Henwick as one of several manors in this area. Jack's eldest son originally lived here while he had Bucklebury House rebuilt. The family remained true to Rome for some time after the reformation and, in 1591, were reported by Royal spies for housing catholic priests at Henwick Manor. If they could not be found in the house, they would be hiding in a hollow oak tree to the left of the entrance!
Waller's men were stationed at Henwick before they set off to outflank the Royalists at the Second Battle of Newbury. His troops, including Cromwell, are said to have marched through the lanes of Ashmore, singing psalms as they went.