Donnington Castle
Civil War Siege Castle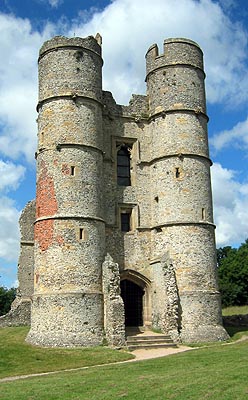 Richard Abberbury the Elder was granted a license to crenellate his manor at Donnington by Richard II in 1386. The present castle gatehouse dates from this time. Abberbury had been one of the young King's guardians, when his father, the Black Prince, was still alive.
The castle was later bought by Chaucer (the poet)'s son, Thomas. He was Constable of Wallingford Castle as well, but his main residence was at Ewelme in Oxfordshire. Geoffrey Chaucer is said to have visited and to have written parts of various works under 'Chaucer's Tree' there, long since cut down. Donnington was to be the home of Thomas' daughter, Alice, and her first husband, Sir John Philip, when they married in 1415. However, the couple were not there long for Sir John died in Harfleur in France, later that same year. In time, Alice remarried, becoming the Duchess of Suffolk. Thus the place became associated with these nobles until they became heirs to the ill-fated Richard III, when the family only naturally fell foul of the Tudor monarchs.
The castle then came into Royal hands and King Henry VIII and Queen Elizabeth I both visited in their time. As a princess, the latter had proposed to live there, in early 1554, but Sir Thomas Wyatt's Rebllion broke out against her sister, Queen Mary, and she was sent to the Tower of London instead. The Royal Council were convinced that Princess Elizabeth knew about the rebellion and was seeking a fortified home for her household. When she came to the throne, Elizabeth made Lady Hoby of Bisham Abbey the steward of the castle, but then granted the manor to the Earl of Nottingham. This led to great confusion as to who was in control and, when the Earl put the castle at the disposal of the new King James, Lady Hoby was not best pleased. She descended on Donnington from Wales and had the Mayor of Newbury supply her with armed clothiers to instigate a pitched battle at the castle gates!
By the time of the Civil War, the castle was owned by the Parliamentarian Packer family, but, at the commencement of hostilities, it was quickly taken for the King and held by Sir John Boys. It was besieged for most of the war, but still succeeded in guarding the major routeways from London to the West and Oxford to Southampton. Its guns held off the parliamentary army during the Second Battle of Newbury, but when the battle troops withdrew the garrison was left to once more hold off a rather half-hearted siege. Only as matters drew to a close were they pulled back to Oxford.
The castle was so badly damaged during its siege that, in 1647, it was already described as "ruinous". The following year John Packer rebuilt the Keeper's Lodge as the new mansion on the estate. It became known as Donnington Castle House.