RBH Home
Maps & Travels
Articles
Legends
Towns & Villages
Castles & Houses
Churches
Biographies
Gentry
Family History
Odds & Ends
Mail David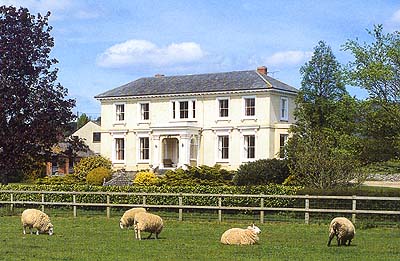 East Shefford
House
East Shefford, Berkshire
East Shefford House is listed grade II and is believed to date from the 17th and 18th centuries although it was extended and remodelled in about 1860. The house replaced an earlier building, known as Hugditch Court, which was sited in the park nearer the river. The great hall used for some years as a barn before being finally demolished in 1871. Adjoining, and within the grounds stands the little redundant church of St. Thomas whose grand monuments to the omnipresent Fettiplace family betray the importance of the original medieval house. The Hundred Courts for Kintbury Eagle were held there.
The present house is approached from a pillared entrance and a wide driveway with grass verges which leads across a charming bridge over the Lambourn. The building itself is spacious and is a charming combination of the Jacobean and Victorian periods. The later front elevation has symmetrical rendered elevations and sash windows under a slate roof with an impressive plastered porch, while the older rear elevations have a mixture of rendered timber frame and brick elevations with gabled tile roofs. Inside, the main reception areas have tall ceilings with elaborately moulded plaster cornices and roses and much of the original joinery including the fine panelled doors and staircase remain. The earlier building at the rear is different in character and has exposed ceiling beams with some earlier linenfold panelling said to have come from Hugditch Court.
East Shefford House is a private residence. It was last offered for sale by Dreweatt Neate in 2003.