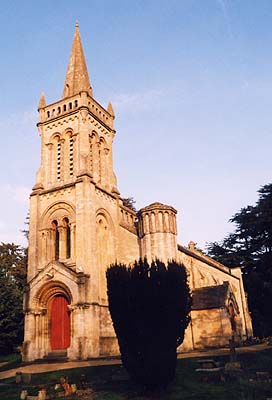 Shaw-cum-Donnington
St. Mary's Church
From the outside, Shaw gives the impression of being a very small narrow church, by step within and it suddenly seems enormously wide and open and lofty. I suppose it's because it has no aisles. It is a surprising interior in other ways too, having a highly decorated chancel, full of colour and life with beautifully painted scenes from the Bible. It is quite a contrast to the whitewashed walls of the nave.
The building was erected in 1840, after the vicar had been on holiday to the Isle of Wight. Seeing a church there that he fell in love with, he returned home to build a copy, or at least a building inspired by it. I've been unable to discover which church on the island he saw. The results at Shaw are a not unpleasing Norman Revival building with a short spire.
The old church that he pulled down is said to have been Saxon in origin, but weren't they all? The new church has retained several of its monuments and added further ones of interest. Sadly the heraldic ledger stones to the owners of adjoining Shaw House have been relegated to outside the south wall and are now largely hidden by bushes: the Dolmans, the Andrewses and even the flamboyant Duke of Chandos' third duchess. Thomas Dolman still has a fine mural monument inside though. Other less impressive plaques include members of the Bacon family, some of the richest men in Britain. Anthony and his brother, Thomas, were great Welsh Ironmasters whose father made Merthyr Tydfil what it today. They sold up in the 1790s and settled at Donnington Grove and Donnington Castle House respectively.
This is not the official Shaw Church website. Please do NOT mail me about use of the church. Visit the C of E's Church Near You website instead.