RBH Home
Maps & Travels
Articles
Legends
Towns & Villages
Castles & Houses
Churches
Biographies
Gentry
Family History
Odds & Ends
For Kids
Teacher's Page
Mail David


Jaunt at the Reading Junction for Queen Elizabeth I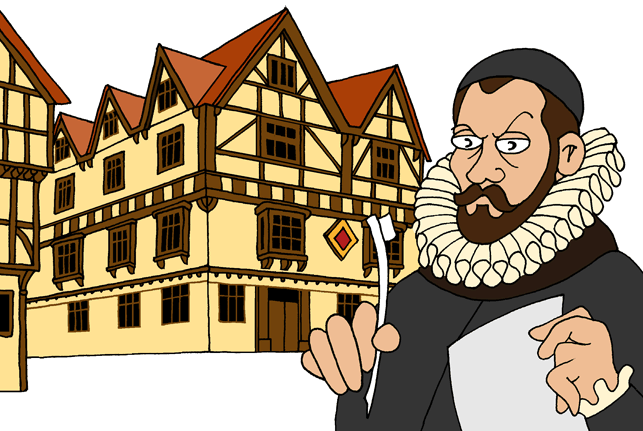 Because Queen Elizabeth I was a Protestant and most of Europe was Catholic, there were lots of plots against her.
She needed to keep a close eye on her people. So she made Sir Francis Walsingham her spymaster. He had spies working for him everywhere.
She is said to have given him Englefield House, near Theale, as a country estate to relax in when not working hard in London.
He also had a town house in Reading on the corner of Minster Street and Broad Street. It was a beautiful timber-framed Tudor house called Walsingham House.
When the Queen stayed at her palace at Abbey House with Sir Francis Knollys, Walsingham held a party for her at Walsingham House. She was very pleased.
A diamond-shaped board commemorating this was placed on the end of the house.
After the Siege of Reading, during the Civil War, the Earl of Essex made Walsingham House his headquarters.
Broad Street was not very broad at this end then. There was a row of shops in the middle of the road dividing it into two small streets: Fisher Row & Butchers' Row.
It was very smelly and unhygienic. Eventually, they were pulled down in 1868.
Walsingham House also became a shop eventually. In Victorian times, it was Hounslow's Grocers and became known as Hounslow's Corner.
It was pulled down in 1905.