RBH Home
Maps & Travels
Articles
Legends
Towns & Villages
Castles & Houses
Churches
Biographies
Gentry
Family History
Odds & Ends
For Kids
Teacher's Page
Mail David


Sir Frank Knollys Junior at the Old Abbey in Reading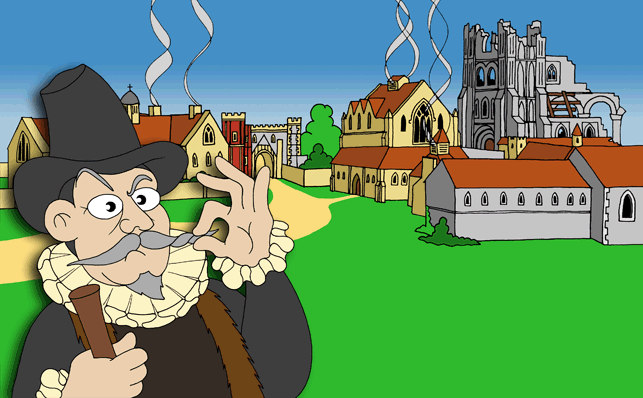 When Reading Abbey was dissolved by John London, King Henry VIII decided to keep part of it as a palace.
The Abbot's House was a very posh building. It had a kitchen, cellars, storerooms and a chapel associated with it, as well as a fancy gateway. It made a very comfortable place to live, so was not pulled down.
The palace was too near to Windsor Castle though. King Henry VIII never visited. His daughter, Queen Elizabeth I, visited only 7 times in 44 years.
She let her cousin, Catherine Carey, live there with her husband, Sir Francis Knollys. They were famous protestants & had lots of sons. So they needed a big town-house.
Their son, Sir Francis Knollys Junior later lived there. He searched for hidden Catholic priests for the Queen. He also has the record for being an MP for the longest: 73 years.
After the Siege of Reading, during the Civil War, the Earl of Essex took a look at the palace. it was falling down. So he sold it off.
It was all pulled down for building stone, except the Abbey Gateway which still stands today.