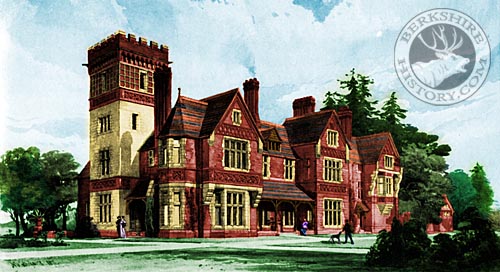 Yattendon Court
Yattendon, Berkshire
Alfred Waterhouse RA is best known as the man who designed both the magnificent Natural History Museum and Manchester Town Hall, as well as more local buildings such as the southern range of Reading Town Hall. He was one of the finest Gothic-revival architects in Britain. His firm was extremely successful and he eventually made enough money to purchase, in 1876, the manor of Yattendon from Thomas Awbery Howard (son of the local rector, who was heir to the old Flory Brewery in Reading's Friar Street).
He did not pull down the old manor house, but did build himself a new one on a different site, slightly further east, between 1879 and 81. He chose red brick with stone dressings and terracotta decoration, not unlike his famous commissions. Largely Tudor-Gothic, the place also had hints of Early English and even a fabulous Norman tower: Waterhouse at his very best. Not being as wealthy as some of his neighbours, the compact building has been described as suitable for 'limited entertaining'. Was this what Lord Iliffe disliked when he bought the house from Waterhouse's grandson in 1925? He promptly pulled it down and had a very boring Tudor-revival house erected in its place.
Yattendon Court no longer stands. This article first appeared as a post on our Royal Berkshire History + Face Book Page.