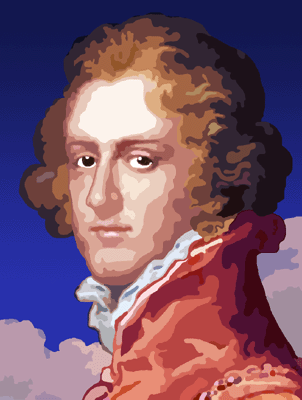 George Spencer-Churchill,
Duke of Marlborough (1766-1840)
Born: 6th March 1766
at Marlborough House, Westminster, Middlesex
5th Duke of Marlborough
Died: 5 March 1840 at Blenheim Palace, Woodstock, Oxfordshire
As the eldest son of George Spencer, the 4th Duke of Marlborough, and Caroline the daughter of John Russell, 4th Duke of Bedford, George Junior was given the title of Marquis of Blandford from birth. He grew up, largely isolated from society, at the family home of Blenheim Palace and was educated privately before attending Eton College and then Christ Church, Oxford, where his extravagant nature began to show. He graduated with an honourary M.A. in 1786 and D.C.L. on 20th June 1792. In 1790, the Marquis had already became M.P. for Oxfordshire, a post in which he served for seven years. The following year, he married Susan, second daughter of John Stewart, 7th Earl of Galloway, and together they had four sons and two daughters. The family was brought up in the Royal County of Berkshire, renting properties, first at Culham Court in Wargrave and then Bill Hill in Hurst. In 1798 though, they moved to the handsome Italianate mansion on the 80-acre Whiteknights Park estate at Earley, which the Marlborough trustees had recently purchased.
The Marquis showered forth money, most of which was borrowed, to make his new Berkshire seat one of the most remarkable in the country. He was well known as a skilled and experienced botanist, and brought with him a number of unusual plants from a collection he had started at Bill Hill. To this, he added rare specimens from around the World, including many duplicates sent, by command of the King, from the Royal Garden. Pride of place went to a pearly-white wall of magnolia, a hundred and forty feet long and twenty feet high. Inspired by his father's work with Capability Brown, the Marquis personally directed the laying out of the grounds, creating a miniature Blenheim, with a lake and a number of bridges. Near the park's Wokingham Road entrance, he formed a 'Wilderness' approached by sarsen stones gathered from the family's Wiltshire estates. He even discovered there what were claimed to be the ruins of the medieval 'White Knight's Chapel' and effected a semi-restoration to create a picturesque folly. The people of nearby Reading delighted in being able to perambulate throughout the estate, skating on the lakes in winter and, in the summer months, listening to the Marquis' own private military band, for which, as an accomplished musician, he often composed marches.
In 1817, the authoress, Mary Russell Mitford, wrote of her visit to the grounds that "there is a certain wood at Whiteknights, shut in with great boarded gates, which nobody is allowed to enter. It is a perfect Bluebeard's chamber; and, of course, all our pretty Fatimas would give their heads to get in." She and another woman were described by the housekeeper as the first two 'modest ladies' she had seen admitted there!
The house itself was magnificently furnished in 'spledour worthy of a Royal residence'. Indeed, it played host to Queen Charlotte, her son, King George IV, and other Royal personages for whom Whiteknights became a favourite retreat. Perhaps this was because the cellar was stocked with wines, spirits and cordials approaching a thousand dozen bottles! The rest of the building was like a private art gallery, displaying paintings by most of the great masters. Its chief treasures, however, were kept in its World-famous library. The Marquis was a bibliophile of the first order, and his exceptional collection of rare and valuable books, particularly ancient mass books, included the Bedford Missal, executed for the Duke of Bedford during his Regency of France in 1422 and given, by him, to his nephew, King Henry VI. It was bought from the library of James Edwards at a cost of £698 in 1817. More expensive still was the only perfect copy of Valderfen's edition of Boccaccio's 'Decameron' in existence which the Marquis had purchased for a staggering £2,260 at the Duke of Roxburgh's sale in 1812!
In his professional life, the Marquis was elected M.P. for Tregony in Cornwall, rather than Oxfordshire, in 1802 and he sat in the House of Commons for another three years before becoming Lord of the Treasury from August 1804 till February 1806. In the latter year, George was called to the House of Lords in his own right, as Baron Spencer of Wormleighton.
Unfortunately, in the 1812, the Marquis fell under a cloud, due apparently to a series of scandals as well as his abandoned extravagance. Miss Mitford referred to him as "that notable fool"; but his brother-in-law, the Rev. Dr. E. Nares, while noting the "pecuniary embarrassments [which] have…..exposed him to much obloquy," paid tribute to the Marquis' "extraordinary attainments" and declared that he knew the many disadvantages under which the his lordship laboured: "though I cannot pretend to vindicate every detail of his life, I shall always consider him an injured man."
Those to whom the Marquis was heavily in debt were not so forgiving and, two years later, he put off the collectors only by borrowing another £50,000. By 1818, however, he owned more £600,000 and, only months after succeeding his father as 5th Duke of Marlborough, not even the illustrious addition of Churchill to his name (in memory of the 1st Duke) could stop the bailiffs. In October 1819, the contents of Whiteknights House were seized and put up for auction. When the library was sold, there was great excitement as the 'Decameron' came up. Everyone surged forward to obtain a glimpse of the book that had cost so much and "hats off" was ordered. Yet it fetched only the comparatively low figure of 873 guineas. Miss Mitford recalls that the newly succeeded Duke of Marlborough lost everything except "by an admirable trick of legerdemain," the Bedford Missal. One hundred pairs of shoes and two hundred pairs of leather breeches were taken for the settlement of bills! As were many paintings. Others were sold for ridiculously low amounts because the ignorant Reading auctioneer did not appreciate their real value.
Sir Francis Cholmeley laid a claim to the ruined Whiteknights estate and, after long and drawn-out litigation, was successful in taking possession in 1824. Estranged from his wife, the impoverished Duke was obliged to retire Blenheim Palace, where he lived the last years of his life with mistress, Lady Mary Anne Sturt, with whom a had six children. Withdrawn from the World to a single corner of the huge rambling house, the 5th Duke of Marlborough survived on a post office annuity of £5,000 which had originally been granted by Queen Anne to his ancestor, the victor of Blenheim. He died there, surrounded by bailiffs disguised as footmen, only one day after completing his 74th year in 1840.