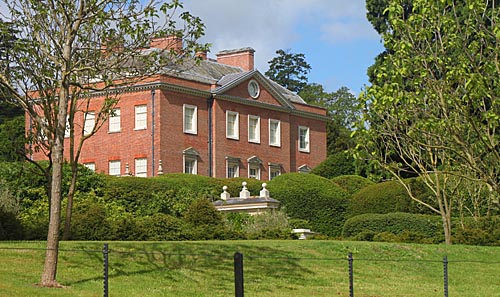 Culham Court
Wargrave, Berkshire
Culham Court, anciently in Wargrave but now in the parish of Remenham, stands near the hamlet of Aston. Like Wargrave, in medieval times the estate was held by the Bishops of Winchester and, no doubt, run on their behalf by an Episcopal steward. In 1552, it became part of the Neville estates and, later, those of the Lovelaces of Ladye Place in Hurley. In 1679, the extravagant 3rd Lord Lovelace was obliged to sell Culham in order to bankroll his party lifestyle. The new owner was Richard Stevens, a London lawyer. His son, Sergeant-at-Law Henry Stevens, had a house built on the site in 1706. His grand-nephew was the founder of Bradfield College.
In the late 1760s, the family sold Culham to another London lawyer, Richard Michell, whose personal fortune was based on his marriage to an Antiguan sugar heiress. Unfortunately, during repairs to the house a fire was started through the "carelessness of workmen". So Michell was forced to tare down the ruins and have Sir William Chambers erect for him a new building, the present house, between 1770 & 71, to designs by the Eton-based Stiff Leadbetter. It is a basemented two-storey red brick rectangular building with Portland stone dressings of five bays, the central three slightly projecting and pedimented. Inside there is a fine vaulted entrance hall with Ionic columned screen, a stone staircase with elegant ironwork railings and Neoclassical plastered reception rooms, one with a lady holding a scythe on the overmantel. The house appears to have been rented out to the newly married and extravagant Marquis of Blandford for a short time in the early 1790s. Eventually, however, Michell's daughter, Charlotte, and her husband, Hon. Frederick West, a son of Earl De La Warr, inherited the property and moved in. West was a groom of the Royal bedchamber who frequently ingratiated himself with the Queen in an attempt to gain himself a peerage. She visited him at Culham in the Autumn of 1804, for a night and a day, along with King George III and the young princesses. Of this visit, George Leslie noted,
"At breakfast, the host, knowing the partiality which His Majesty had for a particular breakfast roll, made only by Gunterís in Berkeley Square, had these fetched from that shop and brought down by relays of horsemen all the way from town in time for the Royal breakfast, the rolls being kept hot by being wrapped up in flannel. His Majesty only remarked on tasting them, "Ah! Gunter, Gunter. I am glad you deal with Gunter, West. Nobody like Gunter." When he entered the house, His Majesty wiped his shoes most carefully, and on Mr. Westís begging him not to take the trouble, he replied, "No, no, West, I am not going to carry dirt into any manís house".
Mrs. Lybbe-Powys mentions a second visit in 1811 when the Royal party were accompanied by 32 horses and many servants. The King was apparently in the habit of inspecting every room of the houses he visited and startled a maid arranging flowers at Culham, whereupon he mischievously remarked, "Donít be frightened. I wonít steal anything."
West's spinster daughter, Charlotte Louisa West, lived at Culham until her death in 1869. The house was then purchased by Capt. Wadham Neston Diggle, the son-in-law of John Noble of Park Place, who had made a fortune investing in the Wellington Colliery on Vancouver Island. It is not know how much time he spent there. The house has changed hands a number of times since. Owners have included the newspaper magnate, Cecil King, and banker's wife and socialite, Felicity Behrens.
Culham Court is a private residence. It can be seen from the Thames Path, which runs below it, and from the perpendicular public footpath across the deer park.