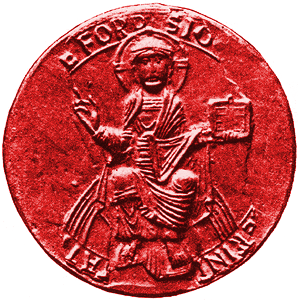 Wallingford Priory
Dedicated to the Holy Trinity
Robert D'Oyley of Liseux is best known for having built Wallingford Castle between 1067 & 1071. A greedy military man, he spent much of his time acquiring land to add to his Berkshire estates, mostly at the expense of the church. The monks of Abingdon Abbey were eventually forced to conspire against him and pray for his repentance. He fell ill and was warned in a dream to mend his ways. Afterwards, he began endowing many churches and monasteries, the chief of which was Wallingford Priory.
The Abbot of St. Albans sent a number of monks to establish the first monastery, in the North-West corner of the old Saxon ramparts at Wallingford, and it always remained a daughter house of that Abbey. In fact, many local people became monks at St. Albans, perhaps after being novices at Wallingford: John of Wallingford became a famous chronicler there, whilst Richard of Wallingford and William of Wallingford were both made Abbots of St. Albans, as was another John of Wallingford (alias John de Cella), the former Prior of Wallingford. Other priors were not so well favoured, however, perhaps because of their lack of manners. It is recorded in 1182 that, whilst returning home to his archdeaconry, Peter de Blois, Archdeacon of Bath, sent one of his men on ahead of him to arrange for food and lodging for himself, his servants and horses at Wallingford Priory. However, the poor man was met by such a torrent of abuse from the prior, Nicholas of Wallingford, that the two almost came to blows. Presumably the Archdeacon found accommodation elsewhere.
Since Wallingford was the Thames crossing point on the main road to the west, from London to Gloucester, the priory must have been much burdened by their obligation to offer up accommodation to weary travels, whether church officials or not. So, perhaps, we should not think too harshly of Prior Nicholas. Though, the establishment, no doubt, housed a small collection of relics and a venerable statue of the Trinity, there is no evidence that it was able to recoup its losses from the donations of generous pilgrims.
The Royal residents of Wallingford Castle may have worshipped in the priory church on special feast days and holidays, although their chief place of worship would have been St. Nicholas' at the castle itself. A diocesanal synod was certainly held at the priory during a vacancy at the See of Salisbury in 1246. On 8th August 1385, the Black Prince's wife, Joan the Fair Maid of Kent, died at Wallingford Castle. As there seems to have been some association between her and the Priory, it may have been in the church there that her body lay before being transported to Stamford in Lincolnshire for burial alongside her firs husband, Thomas Holland, Earl of Kent.
Wallingford Priory was dissolved in 1524, earlier than most abbeys and priories because Cardinal Wolsey wanted to use the proceeds to found Cardinal (now Christ's) College in Oxford. Thomas Canner, the sub-dean, asked Wolsey if he could have the bells from Wallingford, as the parish church in his home town could do with some new ones. This was St. Michael's Church in Basingstoke, just over the border in Hampshire. The last prior was Thomas De la Beche Marshal who went on to become Abbot of Colchester. He was one of the three abbots hanged at the Dissolution for resisting the King's authority.
There is nothing left of the priory today.