RBH Home
Maps & Travels
Articles
Legends
Towns & Villages
Castles & Houses
Churches
Biographies
Gentry
Family History
Odds & Ends
Mail David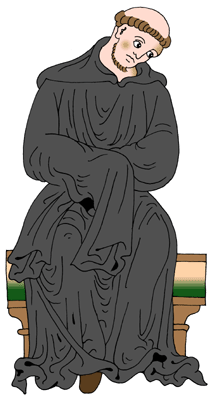 John of Wallingford
(d. 1258)

Born: circa 1200
Infirmarer of St. Albans
Died: 14th August 1258 at Wymondham, Norfolk
John of Wallingford was presumably a native of Wallingford in Berkshire and perhaps first entered the priory there before transferring to its mother-church at St. Albans. He gives his name to a chronicle of English history existing in the Cottonian MS. Julius D. vii. 6. From internal evidence, it appears that John became a monk of St. Albans in 1231, was in priest's orders, served the office of infirmarer from about 1246, either composed or simply copied, as a scribe, the chronicle in question, and died at Wymondham Priory in Norfolk, a cell of St. Albans, on 14th August 1258.
The chronicle associated with John of Wallingford's name extends from AD 449 to 1035. The author evidently used several excellent authorities, such as Bede, the Saxon priest's 'Life of Dunstan', Florence of Worcester and the like, but he was also a friend of the better known chronicler, Matthew Paris, and seems to have largely relied on his works. He made some attempts at comparison and criticism, but inserted so many exaggerations and misconceptions, apparently current in his own time, and confused many of the results of his readings, that his production is often considered of little historical worth. More than once, he wrote of his intention to create a larger chronicle. He also abridged Paris' Gesta abbatum monasticii sanct Albani.
He should not be confused with John of Wallingford alias de Cella, the Abbot of St. Albans at the beginning of the 13th century.
Edited from Sidney Lee's "Dictionary of National Biography" (1899).