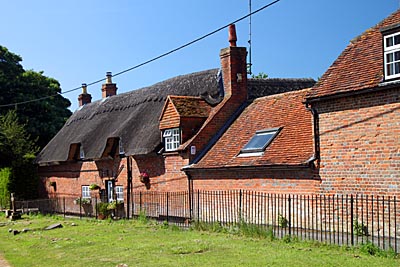 Peasemore
King Peada's Southern Retreat
The eastern parish boundary runs along 'Old Street,' an ancient sheep droving trackway, probably of Iron Age date or earlier, which links the Ridgeway to the Ermin(e) Way.
Peasemore is supposedly named after its founder, the 7th century St. Peada. He was the son of the great Pagan warrior king, Penda of Mercia, and became King of Middle Anglia where he was converted to Christianity. Peasemore must have been in the very south of his kingdom; but perhaps it had nothing to do with him. A much more boring interpretation of the name indicates it is one of several vegetable placenames in the area, like Leckhampstead and Chieveley. It is the 'Pea Pond,' referring to the peas grown around the village pond that once stood near the church.
In Saxon times, Peasemore was part of Chieveley parish, but it became independent shortly after the Norman Conquest. There were three manors at the time of the Domesday Survey (1086). The entries are interesting for their mention of four Saxon halls. All told, the parish consisted of six villeins (tenant farmers) and seventeen bordars (cottage-dwellers) and their families. Throughout the medieval period, the three manors remained without distinguishing names, but two of them merged into one in Tudor times. The twin manors were granted to John Lyford in 1563. He was a London merchant whose country home was Rushden's Farm in Stanford Dingley, but he did present his brother, William, to the Rectory at Peasemore. William's son and namesake was born in the village and later, during the Civil War, became a well-known Calvinist divine, writing many works on religious subjects when he was Vicar of Sherborne Abbey in Dorset. John's grandson, Richard Lyford the Younger, finally left Rushden's and moved to Peasemore Manor in 1634. He died quite young and his daughter and heiress brought the manor to her husbands, Thomas Edwards and then Rev. Thomas Coward, followed by another heiress, her daughter Mary wife of Rev. Ralph Sherley. They have a good monument in the parish church. The third manor was held by the Keeper of Windsor Castle, Sir Warin de Lisle of Kingston Lisle, just before his death in 1322, but he was not a good landlord. Two years previously, he had sent several of his servants down to Peasemore to assert his authority and they treated a certain Robert Ilsley so badly that he died not long afterward. The exact details of what happened are unknown.
The church, now dedicated to St. Barnabas, dominates the village with its imposing spire rising over a rather incongruous Victorian blue brick nave and chancel. The village lost most of the old thatched cottages at its centre during a major fire in 1736 that started at Drake's Farm. Manor Farm (alias Peasemore Manor) looks 18th century from the outside, but it hides a 15th century timber-framed hall house within. Prior's Farm (alias Peasemore House alias Priorside) stands on the site of a retreat, given to the Prior of Poughley Priory (Chaddleworth) in 1237, and Prior's Wood survives on the southern parish boundary, although it is no longer filled with ancient elm trees.
In more recent times the village has become famous as the childhood home of Prime Minister David Cameron. The family lived at the Old Rectory and his father was Sheriff of Berkshire in 1978/9.