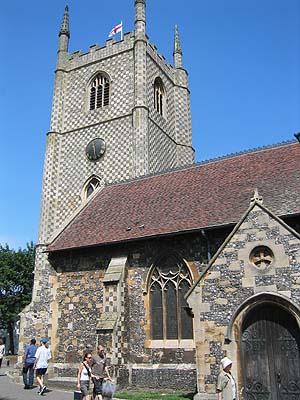 Reading
St. Mary's Church
There is a local legend that St. Mary's Church in Reading was founded by St. Birinus when he evangelised the area in the AD 630s. However, this story does not seem to be very old and is probably just a Victorian hypothesis.
There was certainly an important Saxon Minster here and this became a nunnery under the patronage of the evil Queen Aethelfrith in AD 979. This lady murdered her step-son, St. Edward, in order that her own child, Aethelred, could become King, after her husband's death. Poor Aethelred was so shocked by his mother's actions that he forced her to set up a number of such convents in a vain attempt to cleanse her soul. The church at Cholsey was one of the others. Unfortunately, the buildings were largely destroyed by the Vikings in 1006.
The present building does still retain a Saxon doorway from Aethelfrith's time, though the main structure is late 11th century. The South Aisle was added a hundred years later. The building underwent a major restoration in the mid-16th century when lots of building materials became available from the dissolved Reading Abbey. The elegant chequer-board tower dates from this time. Unfortunately, further heavy restoration work in the 19th and early 20th centuries has removed or obscured much of St. Mary's history, but some interesting 17th century fittings survive. The oak screen and gallery over the western entrance dates from 1631, just before the Puritan preacher, William Durham, became curate. The font was given by the Vachell family of Coley Park in 1616 and features their coat of arms. The north transept or St. Anne's Chapel was originally the Vachell Aisle and was crowded with their colourful hatchments. William Kendrick's monument (1635) in the chancel, showing the deceased and his wife kneeling at prayer, is the only memorial of any age. The inscription claims the family was descended from King Cynric of Wessex! William was the brother of Reading's great patron, John Kendrick, but his corrupt administration of his brother's great charitable legacy eventual led to its appropriation by Christ's Hospital. St. Mary's figures prominently in the romantic tale of his great great grandaughter's courtship, known as the 'Berkshire Lady'. She first met her husband at a wedding here and though she is certainly buried in the vault - apparently in a a lead coffin moulded around her beautiful features - there is no truth to the story that the two were married here. The were wed at Wargrave Church.
This is not the official St. Mary's Church website. Please do NOT mail me about use of the church. Visit the C of E's Church Near You website instead.