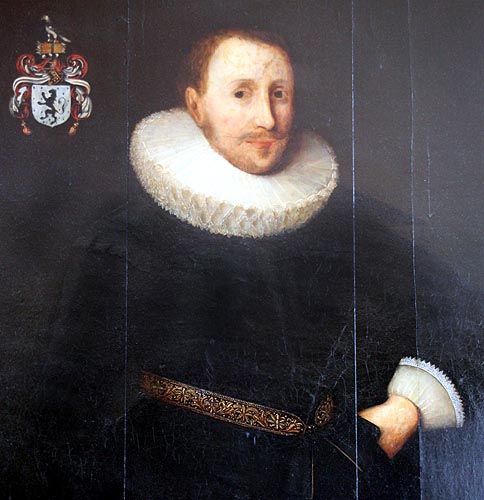 John Kendrick
(1573-1624)
Born: 1573 at Reading, Berkshire
Cloth Merchant & Philanthropist
Died: 30th December 1624
at St. Christopher's, London
John was the eldest son of Thomas Kendrick and his wife, Agnes Bye, a lady from a very old and much respected family in Reading. Thomas was a prosperous clothier, who, probably before John was born in 1573, moved into a large and comfortable house opposite the Rose Inn in Minster Street in Reading, one of the largest in St. Mary's Parish. Through its orchard and formal garden ran the little Holybrook, and beyond another tributary of the Kennet was a meadow for the spreading, drying and bleaching of cloth after fulling. By his property, Thomas earned the right to the title of gentleman and assumed the family coat-of-arms.
John was educated at the Reading Free School, later called the Grammar School, which was housed in the old Abbey guesthouse near St. Laurence's Church. The upper part of this building was the Town Hall, where John's father presided as Mayor in 1580. John was then but seven years old and was, like the rest of the boys, probably just beginning to have Latin and Greek whipped into him. He almost certainly knew William Laud (later Archbishop of Canterbury) who was just a few years his junior.
John's father died when he was just fifteen and his brother, William, eleven. That things in the Minster Street house went on much in the same way as before speaks well for his mother's capabilities. Agnes Kendrick kept the business going in trust for the boys; paid the quit-rents to St. Mary's Church; arranged advantageous marriages for her daughters, Elizabeth and Alice (the third daughter, Anne, having married John Newman the previous year) and sent John to Oxford, as his father had wished.
In October 1589, at the usual age of sixteen, John was sent to the traditional University College for Reading boys, St. John's in Oxford, founded only thirty-four years earlier by another Reading clothier, and Lord Mayor of London, Sir Thomas White. Here, John's studies remained the Greek and Latin authors. Ten years' study of 'the humanities' made John a wiser and more valuable person and certainly did not impair his business capacity.
Three or four years later, in 1592 or 3, John returned to Reading and took over the very flourishing Minster Street business, residing with his mother and brother in the family home. He is said to have kept a hundred and four looms working and employed several hundred people in weaving and its connected trades. But he stayed there, at the most, three years, probably less. Something urged him to London. Perhaps his ideas were too wide-sweeping for a small provincial town.
John Kendrick went to London about 1595 to make his fortune; and he set about achieving his rise to Merchant Prince status in a most patient and deliberate way. Though he had an Oxford degree and the experience of his own large cloth-business, he began at the foot of the ladder, like any lad of fourteen, serving a seven years' apprenticeship to John Quarles, Master Draper, in order to become a freeman of the great Drapers' Company of London. This he achieved in 1602 and was called to the Livery (admitted to full privileges of the Guild) in 1614.
John's portrait (above) shows a vital, honest face, humorous and shrewd, but kindly. It is a very likeable face; John Kendrick was probably a much-liked person. There is firmness there, too, and clear determination, in spite of the repose in the long, white hands. Whether John was what is called a 'religious' man or not, no-one can say. The introductory paragraph of his will shows only the formality of the age, but he dealt very generously with the Churches. He was evidently a sociable man, with many friends in London, Newbury and Reading. Not a few of them owed him money and, at his death, he remitted all their debts. He was evidently the sort of man to whom one could turn to for help in a tight corner, and who would not demand his bond the day it became forfeit. John Kendrick did not make his fortune by miserliness, but by hard work and sound business sense, knowing where and when to buy and sell. Apparently, in London, he was not weaving cloth, but preparing it for export and shipping it to Holland, in the profitable days before the Dutch wars put an end to such trade. This probably accounts for his connections with various clothiers of Reading and Newbury. His partner, in London, was Laurence Halstead. This man must have journeyed to the old Kendrick family home in Reading on numerous occasions with his old friend, and, having taken a liking to Berkshire, he purchased the manor of Sonning in 1629. John's representatives, in Antwerp and Delft were Arthur Aynscombe and Barney Reymes, and he had business dealings with Lucas van Peenen and Hans Poets in Middleburgh. The cloth was carried overseas by the Company of Merchant Adventurers, to whom he left nine hundred pounds in his will, as a loan fund to encourage their young members. He requested that the first five recipients should be his 'present servants, William Powle, Thomas Newman, at that time in Delft, and Simon Gandy; and later, when they had finished their apprenticeship, Andrew Kendrick (his kinsman) and Christopher Packe. He was, thus, not the detached head of a big business firm, but a man who held personal pride and interest in every detail of it and in the people who served him. One might imagine him eagerly watching his ships loading and unloading, as he had watched the Kennet barges when he was a boy.
During the last years of his life, John Kendrick lived in the parish of St. Christopher, which was in Thread-Needle Street, in the London that was burnt down in the Great Fire - though St. Christopher's survived. Where his house stood is not known. It was a bachelor establishment and included, besides the servants - including his waterside porters - his two apprentices, already named; Mr. George Lowe, a former partner, who had lived in his house for six years, without paying a penny for "lodging, diet, firing and washing", and John Quarles, his old master who, not only lived there for free, but was paid fifty pounds a year as bookkeeper to his erstwhile apprentice. John seems to have been very fond of Quarles and, in his will, begged his executor, his "loving friend and partner," to take the old man into his home on the same conditions, until the expiry of the partnership in 1626 - a very thoughtful and significant gesture.
John died on 30th December 1624, aged 51. He had amassed a fortune of more than thirty thousand pounds and he had been determined to do good works with it. People, up and down the country, have always made charitable bequests in their wills; but John Kendrick went further and stands out, a giant, among them all. In his mind was more than compassion for misery. He had been thinking out the cause of misery and its prevention. The answer was 'employment'. He knew that, ever since the Dissolution of the Monasteries and the disbanding of the soldiers after the long French wars, the highways of 'Merrie England' had been swarming with poor beggars and vagabonds. So, besides leaving money for hospitals and the relief of prisoners, apprenticeships for homeless boys and dowries for girls; John left £12,500 in trust to the Mayor and Burgesses of Reading and Newbury for setting "the poor on work" in the cloth trade. In Reading, they built "a strong house of Brick....with a fair garden adjoining" on land in Minster Street sold to them by the benefactor's brother, William, and called it the 'Oracle' after the man of vision: John Kendrick. Sadly, this magnificent legacy was totally mismanaged and the funds misappropriated, largely by John's own family. In 1849, what was left of the money was rightfully claimed by Christ's Hospital and the Oracle building was demolished the following year. However, sufficient funds did remain in Reading for the founding of the Kendrick School and the 'Oracle' is now remembered in the name of the shopping centre built on the old site.
Edited from HM Appleby's 'The Kendrick Book' (1948)