John D'Earley (1172-1230)
Born: 1172
Marshal of the Royal Household
Died: 1230
The Earley Family seem to have taken their name from Earley or Erlegh, near Reading, one of their many manors. Most of their substantial holdings were in Somerset although some, like Earley, were in Berkshire. Earley comes from the Saxon ER meaning Eagle and LEY or LEIGH meaning Wood. Hence 'Eagle Wood'. The Family holdings were enough that the Family were considered to be minor Barons.
William d'Earley I was Chamberlain to King Henry II. He married Aziria, daughter of Ralph d'Insula and had two sons and three daughters. William died at the end of 1180 leaving his heir, John, as an 8 year old boy. William, on his deathbed donated land and monies for the foundation of a priory at Buckland in Devon. The Earley lands remained in Royal keeping and John became a ward of his great uncle Thomas, archdeacon of Wells. Thomas died in approx. 1185 or 1186 and King Henry II gave the wardship of the 14 year old John to William Marshal.
We know that John remained as William Marshal's ward until he came of age in 1194. During this period, he became the Marshal's squire and was married to Sybil, another of the Marshal's wards. It is almost certain that Sybil was the illegitimate daughter of William Marshal's brother, John, and his mistress, Alice de Colleville. Sybil was a Marshal family name - William's mother and, later after he married, his daughter were called Sybil.
John was almost certainly with William when King Henry II sent the Marshal to Poitou with messages to his son, Count Richard, who was in rebellion against his father. Unfortunately, Richard openly defied his father and a border war took place through the winter and spring. Henry fell ill and languished in Anjou until the May of 1189 when he met with Richard. This came to no avail and Richard attacked and pursued his father to Maine. He caught up with him at Le Mans. William Marshal ambushed Richard and killed his horse, so giving Henry II the chance to escape. He reached Chinon but fell ill again and died.
William accompanied the body to the Abbey of Fontevrault and there waited for the arrival of Count Richard. Richard arrived at the abbey and John d'Earley described him thus:
"If you ask whether he looked joyful or wrathful when he came, there is no one who can tell if he were joyful, sad, remorseful, grieving or cheerful".
Count Richard, now King Richard I, summoned William Marshal to him and pardoned him. He gave him the hand of Isabel de Clare (the heiress of Earl Richard de Clare, Lord of Striguil - ie. Chepstow) in marriage and, after the funeral, despatched him to England
John d'Erley was knighted in 1194, probably by William Marshal, and came into his inheritance at this time. Although John now had considerable wealth and land, he seems to have stayed in the Marshal's household. This was due in part to their mutual liking and also to the family connection through Sybil, his wife. Also at this time John would have become part of Williams mesnie (household knights).
William Marshal and John d'Earley were with Richard in France between 1195 and 1198, both returning to England briefly. John was with Richard at Gisars in 1198 (see the illustration below in which John d'Earley is the second knight from the right).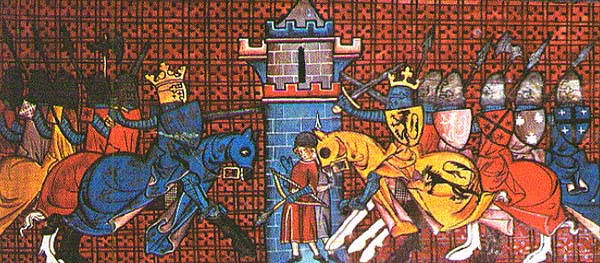 In March 1199, King Richard marched to the castle of Challus in the Limousin region of France. William Marshal and John d'Earley took their leave of the King to attend to Royal business in Normandy. On 26th March, the King was wounded by a crossbow bolt. The wound turned septic and he died on 6th April. A day later, a courier carried the news to William Marshal at the castle of Vaudreuil. John d'Earley was then sent immediately to England to carry the news to the Justicar, Geoffrey fitz Peter.
King Richard's brother, John, then succeeded to the throne. During 1202, King John made John d'Earley sheriff of Devonshire. In 1204, William Marshal, John d'Earley and a great company of knights and men at arms seized the castle of Cillgeran from the Welsh, surprising them with a dawn attack. In June 1205, King John summoned William Marshal and other magnates to a meeting and ordered that they mount an expedition to France in order to regain the Crown's lost lands in Poitou. William refused and found himself and his household out of Royal favour.
In 1207, William Marshal, who was now Lord of Pembroke, Striguil and Leinster (since 1189, and, since 1199, he was also Earl of Pembroke ), received a Royal license to travel to his holdings in Leinster. At this time, his tenants in Ireland were rebelling, hence the need of an expedition there to secure his holdings. John d'Earley and Henry Hose, the Marshal's most intimate followers, were also granted licenses by King John to accompany their Lord to Ireland. Their lands were granted Royal protection for the period of their stay in Ireland. At the last moment, however, the King had a change of heart and demanded William's second son as a hostage against his good behaviour. He already had the eldest son as hostage at this time. William gave up Richard, his second son, and left for Ireland.
In early March 1207, William Marshal, his wife Isabel and his household knights arrived in Ireland. By 29th September, the Marshal was once again in England, summoned by the King to a meeting at Woodstock. Isabel was left in Ireland to defend her husband's interests there. Jordan de Sauqueville and John d'Earley were left with her. Jordan was made Bailiff of Northern Leinster, up to Dublin. John d'Earley was Bailiff of Ossory and the southern half of Leinster, having an under bailiff in Stephen d'Evreux.
King John sent letters, in January 1208 using Thomas Bloet as a messenger to Ireland, recalling John d'Earley, Stephen d' Evreux and Jordan de Sauqueville to England. Knowing that they would forfeit their English lands and holdings if they refused, they conferred amongst themselves. John d'Earley felt it would be dishonourable to yield up the trust that the Marshal had placed in their hands, saying "Let us not complain of the game if we lose land and honour; better that than to lose land, honour and the love of our lord". Stephen d'Evreux thought "that the King could do as he pleased with their lands rather than they be shamed before God". All three returned to Thomas Bloet and refused to yield their positions and return to England. These brave sentiments were the sort to be respected in those times.
Meanwhile, in February, the King taunted William Marshal by telling him that Kilkenny had been besieged and that Jordan and Stephen had been killed and that John d'Earley had been mortally wounded, dying soon after. The King then had all the lands of John d'Earley, Stephen d'Evreux and Jordan de Sauqueville confiscated. A letter was then sent to the Marshal, on 20th February, informing him of this action, particularly in regard to John d'Earley whom everyone was aware was as close to William Marshal as his own sons.
In actual fact Meilyr fitz Henry, the King's man in Ireland who had attacked the Marshal's men, had been beaten and his lands and castle had been seized and he himself taken and imprisoned. King John finally accepted the inevitable and made up with William, who returned to Ireland. John d'Earley was rewarded, by William, with the grant of land in Kilkenny, which became Earlytown. At this time, John d'Earley became William's Carissimus: his most intimate of intimates, his most loyal and trusted friend.
The situation between the Marshal and King John flared up again in 1209. William de Braose, formerly a favourite of the King, fell out of favour and fled to Ireland. He was given sanctuary for a time at Kilkenny by the Marshal. King John arrived in force in Ireland in order to put down a minor revolt and, at the same time - in order to show his displeasure at the Marshal's behaviour - took John d'Earley as a hostage. He was imprisoned at Nottingham Castle for a short while before returning to court.
In 1211, John d'Earley was made Sheriff of Devon, a position he held until 1215. In 1212 the King, fearing a plot to assassinate him again, felt the need of the Marshal's good will. He released William Marshal's eldest son, William, into the hands of John d'Earley. The younger son, Richard, was released to Thomas de Sandford. Also, at this time, John d'Earley was named Marshal of the Royal Household. The King's favour continued and, during the October of 1213, gave William Marshal the town and castle of Haverford. John d'Earley was a witness to that charter. In the year 1216, however, King John fell ill at King's Lynn after eating a meal of cider and peaches and later, at the Bishop's Palace at Newark in Nottinghamshire, he died. At the last, he asked that the Marshal look after his son, Henry, a boy of nine.
William Marshal and John d'Earley attended the Kings funeral at Worcester Cathedral and, afterwards, joined other magnates at Gloucester in council. The nine-year-old Henry, now King Henry III, was brought from Devizes. After the coronation of Henry, the magnates urged the Regency on the Marshal. He retired to his rooms at Gloucester Castle and called his nephew John Marshal, John d'Earley and Ralph Musard (Sheriff and Castellan of Gloucester) into private council. He had misgivings concerning the Regency and wanted their advice. Ralph Musard and John Marshal urged him to accept, seeing rich rewards for the Marshal and his followers. John d'Earley, taking into consideration his lord's age (sixty-nine) and not wishing for gains at the expense of William's health, advised against. The Marshal bade them goodnight, promising to sleep on their advise.
The following day the Earl of Chester arrived and deferred to the Marshal, saying that he should accept the Regency. William again called the three friends from the previous night into council and announced that he was going to accept. John d'Earley then said:
"you have undertaken a task that must be carried through at all costs. But when we reach the end, I tell you that, even putting things at their worst, only great honour can come of it. And as the worst possible outcome is so honourable, the most propitious will bring you both great honour and great joy. No man will have ever earned such glory on earth".
William Marshal caught Johns mood and replied:
"By God's sword this advise is true and good. It goes straight to my heart, that if everyone abandoned the King, do you know what I would do ? I would carry him on my shoulders step by step, from island to island, from country to country and I would not fail him, not even if it meant begging my bread".
The Marshal, his Royal ward and retinue left Gloucester in early November and moved to Tewkesbury.
In the time around 1217, Royal lands in South Wales had been attacked by the Welsh prince, Morgan ap Hywel, Lord of Caerleon. Morgan had been an ally of Llewelyn ab Iorwerth, Prince of Gwynedd. He was trying to regain lost Welsh lands around Usk and in Netherwent (Lower Gwent - the area between Chepstow and Usk bordered by the rivers Wye and Usk). The main holding of the Welsh was the castle of Caerleon. This was attacked in September 1217 by John d'Earley, then Bailiff at Striguil (Chepstow), and captured.
In Westminster, during January 1219, William Marshal fell ill with great pains. In the middle of March, he and his wife were rowed up the River Thames to his castle of Caversham (Oxfordshire), close to Earley, his friend John's manor. He was aware that he was dying. At this time, John d'Earley's son, John, was acting as his father's deputy as Seneschal of Netherwent and Striguil. John d'Earley himself had hastened to Caversham to be at William's side. William received news that his lands in South Wales were under threat from the Welsh. At some point William Marshal said to him:
"John, do not tarry. Go to your bailiwick. I am disturbed about my men in Netherwent and especially about your son who if he should be foolishly advised might make some expedition in which our men would suffer".
John returned to Netherwent, sorted the problem out and swiftly came back to the Marshal. On 14th May 1219, with his son William, his best friend John d'Earley and two bishops giving him absolution, William died.
John d'Earley was executor of the Marshal's will and both he and William Marshal the Younger paid to have a poem written to celebrate the Marshals life. This poem of 19214 lines was written by John the Troubadour. Some speculation suggests that the real author may have been John d'Earley himself.
John d' Earley carried on by serving William the Younger until he died in 1230. His own son, John, had died two years previously, leaving no offspring and his second son, Henry, died much later in 1272, leaving a son, Phillip, as his heir.
This biography is reproduced by kind permission of the author, Steve Earl, and originally appeared in manuscript form as "New Information on William and John d'Earley". It is based on the work of Dr. David Crouch in his "William Marshal: Court, Career and Chivalry in the Angevin Empire 1147 to 1219" More information on the family is available via Steve's website.
NOTES:
Spelling of Earley - As spelling was not fixed at this time and there were no dictionaries, the records spell this name as Earley, Erley and Early. Likewise John d' Earley is also referred to as John of Earley. The French 'd'' meaning 'of '.
Pronunciation - Sauqueville is Sackville, Evreux is Evro.
On the foyer wall, above the entrance to the great hall at Chepstow Castle, there are two painted shields. Time and algae have severely damaged them. The left hand shield was at one time red, traces of red paint still remaining. Steve Earl has digitally enhanced the lower third and a white scallop shell can be made out. Obviously, in his opinion, these are the arms of John d' Earley: gules, three escallops argent. This was doubtless to commemorate his time as seneschal or bailiff of Striguil for which the records show he was, between 1217 and 1219.