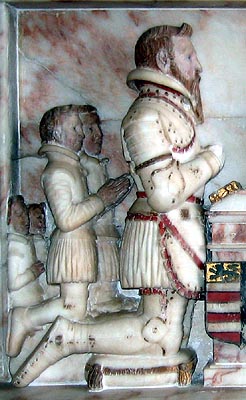 Sir Francis Englefield Junior, Bart. (1562-1631)
Born: 30th June 1562 at Englefield, Berkshire
Died: 26 October 1631

Francis was the eldest son of John Englefield of Wootton Bassett (Wiltshire) and his wife, Margaret daughter of Edward Fitton of Gosworth (Cheshire). Though the family lived at Vastern Manor in Wootton, it actually belonged to John's elder brother, the Master of the Court of Wards and Liveries, Sir Francis Englefield of Englefield House (Berkshire). John Englefield died when his only son was but four years old and - his uncle, having fled abroad as a well-known opponent of Queen Elizabeth's Protestant reforms - the Young Francis' wardship was acquired by the great Elizabethan lawyer, Edmund Plowden.

Worried about the possible loss of his vast Englefield estates while he hid out in Spain, Sir Francis Englefield Senior, settled all his manors upon his nephew, by an indenture dated 1576, with the one proviso that he might revoke the grant at any time by presenting the latter with a gold ring. The uncle was subsequently attainted and convicted of high treason on 29th October 1585 and all his lands declared forfeit to the Crown. Of course, technically, he had no lands by this time and legal arguments therefore continued for some seven years. Queen Elizabeth was eventually forced to pass a special Parliamentary Statute confirming her rights to the Englefield estates. Her agents gave Francis Junior his golden ring; and lands, which had been in the family since the mid-10th century, were confiscated and never returned.

Francis had mostly lived at Shiplake (Oxfordshire) and Wokefield (Berkshire) with his guardian, a most considerate man who had no intention of making a profit from his ward. Rather than select a wife or collect a heavy fine from his ward for having married against his wishes, he allowed Francis to wed who who liked.

He married Jane the daughter of Anthony Browne of Cowdray Park in Midhurst (Sussex) at about the same time that her brother was created Viscount Montague and they eventually produced ten children. Francis appears to have set little value on the sacrifices made on his behalf by his guardian and would not even keep a promise made to Plowden on his deathbed in 1584. Further records attest to this unfavourable light cast on his character. In the Calendar of State Papers for 1589, there is an examination concerning the assurance of his lands and "being willed to tell the truth, he saith that the truth is not to be told at all times"!

Upon the accession of King James I, Francis appears to have made attempts to regain his uncle's property, for Manningham's Diary records:

"October 1602. Sir Francis Englefield's House overthrown by the practice of Mr. Blundell of the Middle Temple who, being put in special trust, took a spleen a small occasion against the heir and presently in his heat informed the Earl of Essex that such a conveyance was made of so goodly an inheritance in defraud of the Queen and so animated him to beg it , to the utter ruin of the house."

Being unsuccessful, by 1606, he decided to purchase alternative Berkshire properties. He lived at Hartley Court in Shinfield for three years, but also bought the Whiteknights estate at Earley, jointly with William Woollascot of Woolhampton. It cost him the sum of £7,500 and he later bought out Woollascot for a further £5,600. In 1612, Francis was created a baronet by the King and he finally managed to gain the restoration of at least some portion of the lands assumed by the Crown from his uncle, including Wootton Bassett but, alas, not Englefield itself. He, apparently did not endear himself to the people of Wootton, for the mayor claimed that he "did by some means gain the charter of our towne into his hands and his successor now keepeth it. At the same time he did likewise gain the deed of common so that the towne has nothing to show for its rights but prescription." Sir Francis had also taken away the meat market "which stood in the market place and given it to a stranger." There was further protest against the way in which he interfered with the old custom of electing the mayor. "We do verily believe that no corporation in England is so much wronged as we are."

In 1617, Sir Francis appears to have been in some dispute with his brother-in-law, Viscount Montague, over some property in Southwark (Surrey) and, in the July of the following year, he was "committed to the Fleet Prison as defaultee in the matter of some property of which he was trustee, and was fined £500 for contempt of court". The Earl of Buckingham wrote a letter in October interceding on his behalf and, two months later, wrote "begging that he might have liberty for a fortnight". In 1620, Bacon wrote to Buckingham saying, "I have stayed the thousand pounds set upon Englefield for his Majesty and given order for levying it," referring to Sir Francis' refusal to contribute towards the muster of soldiers, a liability imposed on all Catholics and resisted by Englefield for many years. Three years later, he was again a inmate at the Fleet. This time over a fine of £3,000 " for touching [accusing] the Lord Keeper [Williams] of bribery". Lord Keeper Williams eventually forgave him though and the two became friends.

Towards the end of his life, Sir Francis built himself a fine house on the borders of Shinfield, Reading and Earley named 'Shinfield Park' and later called 'Goodrest' after King Charles I spent the night there. What remains is now part of Crosfields School. He died on 26th October 1631 and was succeeded in his chief estates, and also the baronetcy, by his eldest son, also Sir Francis. Whiteknights, however, was left it to his fifth son, Anthony - no mean portion for a fifth son - where the family continued until 1822.