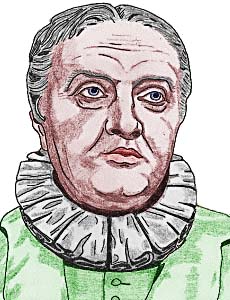 Edmund Plowden (1518-1585)

Born: 1518 at Plowden Hall, Shropshire
Treasurer of the Middle Temple
Died: 6th February 1585 at London
Edmund was the son of Humphrey Plowden Esq. of Plowden Hall in Shropshire, by his wife, Elizabeth. He was educated at Cambridge but, taking no degree, went on to the Middle Temple, in 1538, to study law. Through hard work, he was thus able to become the most distinguished lawyer the late Tudor Age. It is said that, among the men of his profession, he was, not only easily first in knowledge of the law, but also second to none in integrity of character. He studied at Oxford for a while too and qualified as a surgeon and physician in 1552. Upon the accession of the Catholic Queen Mary, he was appointed one of the Council of the Marches (of Wales). In 1553, he was elected Member of Parliament for Wallingford (Berkshire), followed, the next year, by the same office for both Reading (Berkshire) and Wootton Bassett (Wiltshire). The unusual breadth of his religious views were shown early in his career when he, however, withdrew from the House, on 12th January 1555, because he disapproved of the proceedings there.
He continued to lecture on law at Middle Temple and was Treasurer there from 1561-1567. While occupying of this office, the magnificent hall of the inn was begun and, afterwards, he stayed on as "procurator and promoter for building the new Hall and making collections". He was prevented from gaining further promotion under Queen Elizabeth on account of his steady loyalty to the Roman Catholic faith; and was viewed with increasing suspicion by the Privy Council which, in 1569, forced him to give bond to be on good behaviour in religious matters. At one time the Queen had wished to bestow the Lord Chancellorship upon Plowden, and wrote him a letter to that effect, asking only that he should join the Anglican Church in return, but his answer was as follows:
Hold me, dread Sovereign, excused. Your Majesty well knows, I find no reason to swerve from the Catholic Faith, in which you & I were brought up. I can never, therefore, countenance the persecution of its professors. I should not have in charge your Majesty's conscience one week, before I should incur your displeasure, if it be your Majesty's intent to continue the system of persecuting the retainer's of the Catholic Faith.
It is much to Elizabeth's credit that this bold answer did not alter the esteem in which she continued to hold her faithful lawyer and servant to the end of his life. Perhaps this was because his opinions seem to have been held with a moderation equal to their firmness. He asked for a week in which to consider the Act of Uniformity before he sent in his refusal to observe it, and is said to have sometimes attended the services of the Church of English until 1570. It was apparently not until 1580 that articles were exhibited against him on the matter of religion.
Plowden's written works include 'Les comentaries ou les reportes de Edmunde Plowden' (1571) (otherwise known as 'Quares del Monsieur Plowden') and 'A Treatise on Succession' which attempted to prove that Mary, Queen of Scots, was not debarred from the English throne under Henry VIII's will. Edmund successfully defended Bishop Horne of Winchester, and helped other Catholics with his legal knowledge. On one occasion, while defending a gentleman charged with hearing Mass, he worked out that the service had been performed by a layman for the sole purpose of informing against those present, and exclaimed, "The case is altered; no priest, no Mass", and thus secured an acquittal. This incident has given rise to a common legal proverb: "The case is altered, quoth Plowden".
Edmund married Catherine Sheldon of Beoley and by her had three sons and three daughters. He succeeded to his father's Shropshire estates in 1577; but, when not in London, seems to have resided mostly at Shiplake Court (Oxfordshire) and Wokefield Park (Berkshire) where he became associated with many of the local Catholic gentry. The protector of itinerant Catholic priests, Francis Perkins of Ufton Court, was his son-in-law and Plowden acquired the guardianship of young Francis Englefield, the nephew of the famous recusant, Sir Francis Englefield of Englefield. However, despite his over-generous dealings with the latter, he received little thanks in return.
Plowden died on 6th February 1585, leaving, as his heir, his eldest son and namesake. There is a portrait effigy on his tomb in the Temple Church and a bust in the Middle Temple Hall copied from one at Plowden.
Edited from Sidney Lee's
'Dictionary of National Biography' (1896)
Illustration of Edmund Plowden reproduced by kind permission of © Tony Hadland from his 'Thames Valley Papists' Website.