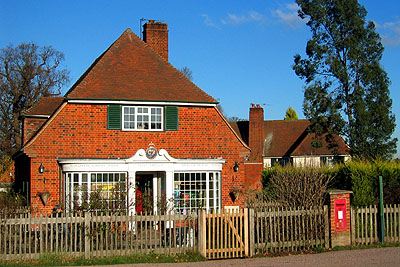 Windsor Great Park Village

Royal Hideaway
The Village sits almost at the centre of Windsor Great Park, the monarchís personal hunting ground set out to the south of Windsor Castle around 1110. Country houses, scattered across the Park, often began as small estates created, after the Civil War, when Lord Protector Cromwell sold off large sections of it. These include the Royal Lodge and Cumberland Lodge. The houses of the Village were erected for the workforce of the park from 1946 adjoining the Prince Consortís Workshops.
South of the Lodge, Virginia Water was formed from a watercourse called The Windles or the Virginia River for the Duke of Cumberland in 1750. Within the angle of its two arms lies part of the moat of Old Windsor Manor. This was made into a family home for King Edward I whose wife and children did not appreciate the uncomfortable castle at Windsor. Sadly, however, its twin great halls, chapels, private apartments and kitchens, for both King and Queen, have long gone. As a young prince, the future Edward II was banished there because of his homosexuality. When he became king, it remained a favourite retreat and he transformed one of the chapels into a collegiate church, complete with dean and chaplains. King Richard II also loved the place and had the chapel painted all over with his personal symbol, a white hart with golden antlers. The site eventually became renamed the Manor Lodge, headquarters of one of the Windsor Forest sub-divisions. Totally rebuilt in 1710, it was pulled down in 1792 and replaced, for a while, by King George IVís extraordinary Chinese-style Fishing Temple. This itself went in 1867.
Read more history of Windsor Great Park and its Village in David Nash Ford's book, 'East Berkshire Town and Village Histories'.
Click to Order direct from the Author.
NEW BOOK

Whether you are from East Berkshire or just visiting, this book is the place to find out all about the history of some 126 different towns, suburbs, villages and hamlets around Windsor and Maidenhead, Slough and Bracknell Forest. Join David Nash Ford from berkshirehistory.com as he examines the structures, people and events that have shaped each place. Some of these histories were first published in part here on this website, but they have all been considerably expanded and are joined by many new histories of places often missed by historians, including those which only joined Berkshire in 1974 or later. Click for full details and purchase options.