RBH Home
Maps & Travels
Articles
Legends
Towns & Villages
Castles & Houses
Churches
Biographies
Gentry
Family History
Odds & Ends
Mail David

Faringdon Church
Monumental Brass
North Wall of the Unton Chapel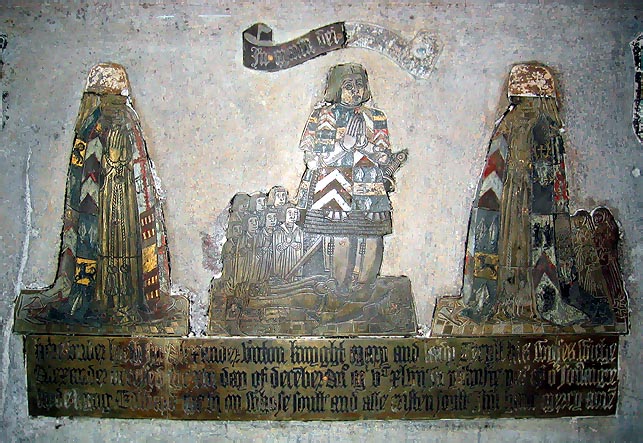 This marble canopied altar tomb monument in Faringdon Church, is of Gothic type with kneeling brasses set in the background to Sir Alexander Unton, 1547, and his two wives. It has the following inscription in English:
"Here under Iyeth Syr Alexander Vnton Knyght Mary and lady Cecyll his wyfes wiche Alexander decessed the xvi day of Deceber An° MVc xlvii In ye Fyrste yer' of or Souaigne lorde kyng Edward the vi on whose soull and alle cristen soull Jhu have mercy ame."
Three kneeling effigies, all in heraldic dresses, the knight wearing a tabard, with the arms of Unton quartering Fettiplace, and behind him kneeling are seven sons. On the dexter side is his wife Mary (Bouchier) wearing a long heraldic mantle with the arms of Unton quartering Fettiplace. On a fess engrailed or, a greyhound courant, sable between 3 spear heads pulewise, argent, (Unton), 2 chevronels in dexter chief a martlet, (Fettiplace), and on her left side the arms of Bouchier (?) and Louvaine (?).
His wife Cecilly (Bulstrode) is turning toward her husband and behind her are three daughters kneeling. She is wearing a mantle bearing the arms of Unton quartering Fettiplace, impaling Bulstrode. A bucks head cabossed pierced by an arrow, between the horns a cross patee fitchee (Bulstrode), quartering a chevron between 3 squirrels segant.
The arms of Unton are repeated on two shields and two other shields are lost, as also part of the heads of the two ladies. The knight is in armour and his skirt of mail and the lower parts of two tuilles are seen at the bottom of his tabard. His gauntlets are on the ground in front of the cushion upon which he is kneeling, and his sword is shown upon his left side. Over his head is part of a scroll. "In Manu de."
Sir Alexander was the son and heir of Sir Thomas Unton (d. 1533) of Wadley House. He married firstly, in 1514, Mary Bourchier, elder daughter and co-heir of John, 2nd Lord Berners (d. 1532) by his wife, Lady Catherine Howard. Mary died s.p. and he married, secondly, in 1533, Cecily, daughter of Edward Bulstrode, Esquire to the Body to King Henry VII and King Henry VIII. She, afterwards, married Sir Robert Kellway, Surveyor of the Court of Wards. Sir Alexander received his knighthood at the Coronation of King Edward VI. In 1547, the year in which he died, he held estates, in Berkshire, at Offchurch, Denchworth, Wadley, Shellingford, Sheepbridge in Swallowfield and East Hanney and, in Oxfordshire, at Minster Lovell and Aston Rowant. The surviving issue, by his second wife, was Sir Edward, his heir (d. 1583), Henry, Thomas (d.c. 1564), and Elizabeth (d. 1611, aged 73) who married Sir John Croke of Chilton (Buckinghamshire).
Partly edited from P.S. Spokes' 'Coats of Arms in Berkshire Churches' in the Berkshire Archaeological Journal (1933). and H.T. Morley's "Monumental Brasses of Berkshire" (1924)