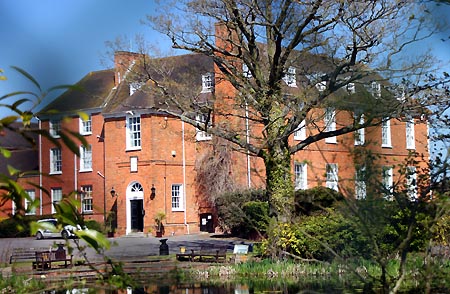 West Court
Finchampstead, Berkshire
West Court at Finchampstead Leas is a late 17th century building, erected for Charles Howard, brother of the Duke of Norfolk, who married one of the Tattershall heiresses. It has a pleasant, but not very exciting facade. After his wife's death in 1695, he sold it to James, a younger son of Edward Goodyer of Dogmersfield Park in Hampshire. The Tattershalls had lived on the site since the late 16th century, when George Tattershall purchased the place from (or was perhaps given it as a wedding present by) his father-in-law, Francis Perkins of Ufton Court. The Perkins were famous recusant Catholics and the Tattershalls were living with them at Ufton during the famous search of the Court for Catholic priests. The Howards were, of course, also Catholic and West Court appears to have had at least one priest hole for their confessor to hide in.
The house has much 17th and 18th century panelling and carved fireplaces, although apparently much of this was introduced in 1835 when the building was restored for Rev. Ellis St. John, the local vicar and Goodyer's nephew. He also removed the moat and the drawbridge. One fireplace, in the old drawing room but removed from a bedroom above, has allegorical figures of Wisdom, Justice and the Arts around the arms of Lennox and Stewart representing Charles Howard's mother. Similarly in the Justice or Oak Room where the arms are those of Wilstrop impaling Bigg, presumably relatives of George Tattershall's daughter-in-law. A plainer early 16th century fireplace came from the old Tylney Hall at Rotherwick in Hampshire, presumably after Jessie St. John married Charles Harris from that house in the early 1870s.
The house was requisitioned by the Ministry of Defence in 1941 and is now the headquarters mess for the REME who are based at Arborfield Garrison in Barkham.
Although a military building, West Court may be seen from the adjoining footpath.