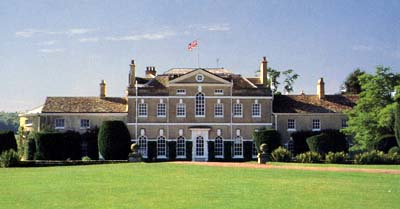 Kingston Lisle Park
Sparsholt, Berkshire
For centuries, the manor was the centre of an extra-ordinary Barony of L'Isle and the house is said to mark the site of a previous 'castle'. This was probably replaced by a Jacobean mansion by Sir George Hyde KB. The present Kingston Lisle House was built in 1677 by his grandson, Humphrey Hyde. It retains a date-stone marked with his wife's initials, GH. It was originally a compact 'double-pile' house, much like Coleshill, with a balustrade and cupola decorating its hipped roof, but the latter were removed in the early 20th century. The two large wings were added in 1812 after the place had been sold to the Atkins family.
The interior features fine furniture, an interesting collection of 17th-century glass, exquisite needlework, and carpets hand made by Pontremolli in the design of William Morris. The crowning feature of the house is the most superb flying staircase which is hard to parallel. The house includes the hall, staircase, morning room, sitting room, dining room, billiard room and drawing room. In the billiard room there is a fascinating collection of letters from Field Marshal Lord Raglan, Commander-in-Chief of the Crimea. The present owner is his great grand-daughter. The house is surrounded by fine gardens with splendid views and walks both in the grounds and to the village with its 12th-century church.
Kingston Lisle Park is no longer available for use as a Conference Centre.