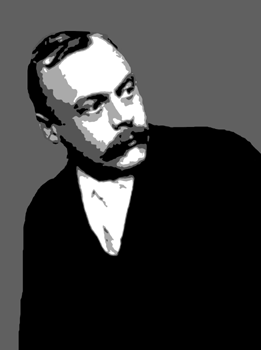 Kenneth Grahame
(1859-1932)
Born: 8th March 1859
at 30 Castle Street, Edinburgh, Midlothian
Author
Died: 6th July 1932 at Pangbourne, Berkshire
Kenneth was the son of an affluent lawyer from an old Scottish family. He had a number of famous relatives: his curate great grand uncle was the poet, James Grahame, while his cousin, Sir Anthony Hope Hawkins (alias Anthony Hope) was the author of 'The Prisoner of Zenda'. Kenneth was born in Edinburgh but, upon his father's appointment as Sheriff-Substitute of Argyllshire the following year, the family moved north to Inverary. Tragedy struck in 1864 when Kenneth's mother died of scarlet fever. His alcoholic father was unable to cope and Kenneth and his siblings were sent to England to live with their maternal grandmother at 'The Mount' in Cookham Dean by the Thames. The family also rented Fernhill Cottage in Cranbourne for a while when the house in Cookham became unsafe. Kenneth's favourite uncle, David Ingles, was the curate at Cookham Dean and then Cranbourne. It was in his latter church that the boy began to first recite his poetry. Kenneth became a pupil at St. Edward's School, Oxford until 1875, but was unable to enter the University and so went to work for his uncle in London. In 1879, Mr. William Lidderdale of Ascot Place helped him get a job at the Bank of England as a gentleman-clerk.
It was while at the bank that Kenneth started to compose pieces of entertaining non-fiction in his spare time. He contributed articles to the St. James Gazette, WE Henley's National Observer and The Yellow Book. In 1893, he had a number of stories published in "Pagan Papers" about a group of orphaned children. This was followed, two years later, by a collection of sketches from previously published works called "The Golden Age" and then "Dream Days" in 1898, which included his most famous short story, 'The Reluctant Dragon'. In this latter tale, a misunderstood dragon is pursued by paranoid villagers. He makes friends with St. George and the two enact a fake fight in which the dragon pretends to be killed!
In 1898, Kenneth Grahame was appointed Secretary to the Bank of England and he married Elspeth Thomson the following year. Unlike her husband, she was a rather snobbish lady and the marriage was not altogether happy. During their son Alistair's childhood, Kenneth wrote the original snippets of his Wind in the Willows to him in letters. He originally had no intention of publishing further. However, after moving back to Cookham Dean, to a house called Mayfield (now Herries School), Grahame completed a finished work. His manuscript was, at first, rejected by an American publisher, but the 'Wind in the Willows' was eventually published in England in 1908. It received only mild enthusiasm at first but, with the help of EH Shepherd's delightful illustrations and the huge success of AA Milne's stage version, 'Toad of Toad Hall,' it has quickly grown to great fame as a children's classic. Many of the locations in the book were inspired by the local landscape: the River Thames, of course, the 'Wild Wood' at Quarry Wood in Bisham and 'Toad Hall' at Fawley Court, just across the river from Remenham. Mr. Toad himself was supposed to have been inspired a former Sheriff of Berkshire, Col. Francis Ricardo of Lullebrook Manor on Odney Island in Cookham. He was a great philanthropist, but also something of an automobile enthusiast and was the first person in the parish to own one: a canary yellow Rolls Royce Silver Ghost, just like the one that got Mr. Toad into so much trouble.
After publication, Kenneth resigned from the bank, having been shot at during a bank robbery. He lived for a while at 'Bohams' in Blewbury (Berkshire) before settling down to a quiet retirement, spending the rest of his life at Church Cottage in Pangbourne (Berkshire). It was from this village that Shepherd took the inspiration for his drawings of Toad Hall, as he gazed across the Thames to Mapledurham House. Sadly, Grahame's son committed suicide at Oxford during the Great War after which he stopped writing. He died on 6th July 1932. He was buried at St. Cross Church, Holywell, Oxford.