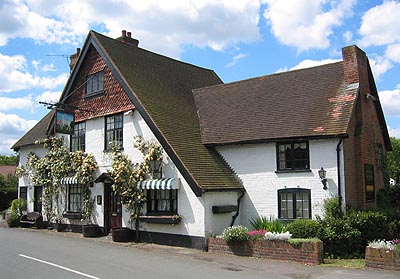 Shurlock Row

Centre of the Fines Bailiwick
Billingbear Park, just south of the village, became the centre of Binfield Walke (and Fiennes Bailiwick), the greatest of the sixteen red-deer-stocked royal sub-divisions of Windsor Forest. It was granted to Sir Henry Neville, a gentleman of the privy chamber, by King Edward VI in 1551, perhaps as a wedding present. Neville was the younger brother of the 5th Lord Bergavenny and a descendant of the great Neville family of County Durham (as well as Bisham). He had risen to power as a follower of the Duke of Northumberland and even signed the document that left the Crown to the Nine-Days Queen, Lady Jane Grey. He built a magnificent mansion at Billingbear in 1567. It was of the usual Elizabethan red-brick E-shape with multiple gables, which were subsequently removed in the 18th century. Henry's son and namesake was a famous Elizabethan diplomat and there is a bizarre theory that he was the real author of William Shakespeare's plays. During the Civil War, the area was deeply divided: the royalist Colonel Richard Neville of Billingbear fighting on the opposite side to his parliamentarian brother, Henry. After King Charles II was restored to the Throne, the house was the scene of a great dinner party in 1667. The King, the Duke of York, Prince Rupert and many other nobles rode over from Windsor especially.
Read more history of Shurlock Row in David Nash Ford's book, 'East Berkshire Town and Village Histories'. Click to Order direct from the Author.
NEW BOOK

Whether you are from East Berkshire or just visiting, this book is the place to find out all about the history of some 126 different towns, suburbs, villages and hamlets around Windsor and Maidenhead, Slough and Bracknell Forest. Join David Nash Ford from berkshirehistory.com as he examines the structures, people and events that have shaped each place. Some of these histories were first published in part here on this website, but they have all been considerably expanded and are joined by many new histories of places often missed by historians, including those which only joined Berkshire in 1974 or later. Click for full details and purchase options.