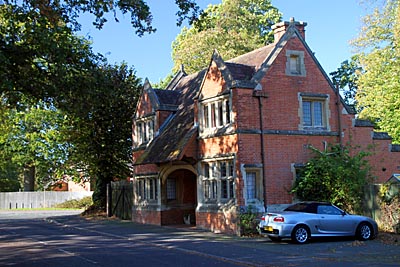 Greenham

Home of the 'Newbury Coat'
Greenham was originally part of Thatcham parish, although it had its own chapel from Saxon times. The name means 'Green River Meadow'. In the Domesday Survey of 1086 the manor belonged to the Ferrers family. However, in 1199 it was given to the military order of monks known as the 'Knights Hospitaller'. By 1338, they had built a preceptory and associated buildings there, presumably near the present church. The main structure would have been similar to the Templar Hall which still survives at Bisham Abbey. Greenham was the Hospitallers' main home in Berkshire and largely oversaw their second manor of Shalford in Brimpton. After the Dissolution of the Monasteries, it passed to the Lucas family and in 1856 was purchased by Lloyd Baxendale, the founder of Pickford's Removals. Norman Shaw built him the fine manor house of Greenham Lodge in 1879, in imitation of the Elizabethan Shaw House, just north of Newbury. It has an Arts and Crafts feel, with Poole pottery tiled chimney pieces by William de Morgan.
After the First Battle of Newbury in 1643, the Earl of Essex and his Parliamentary Army left the area via Greenham Common, along with 600 Royalist prisoners. A hundred years later, the famous Newbury Coat was made at Greenham Mills: from sheep's back to finished garment in thirteen hours and twenty minutes.
Greenham Common is the home of the Newbury & Crookham Golf Club, the oldest in the county. One of the oldest inland courses in the whole country was laid out at Crookham in 1873, but this was requisitioned for the airfield during the Second World War. The present course, just to the west, was laid out for the Newbury Club in 1923. This too had runways built on it in WW2: on the 1st, 14th and 15th fairways. Others were used for grazing sheep and cattle! The two clubs were amalgamated in 1946 and the Newbury course restored.
In more recent years, Greenham Common became nationally, if not internationally, famous for its, now defunct, American Air Base, home of Britain's nuclear missiles - and incidentally the longest runway in the country. The many peace protestors you camped there all year round made frequent appearances on the Television News and in the Newspapers.