Ascot
Home of the Royal Races
Ascot was the centre of an important Bronze Age cemetery consisting of a number of round barrows called Bowledge Hill Barrows. Unfortunately, these have almost all been flattened and built upon. Only one survives, bizarrely in the middle of the Heatherwood Hospital complex. An old story tells how they were the home of the mythical Side-hill Winder. This bovine creature had two legs shorter than the others, so it could only live on the side of hills or burial mounds. If you wanted to catch one, you just had to chase it onto level ground where it would fall over.
The name Ascot is Anglo-Saxon and derives from East-Cote meaning the Eastern Cottage, probably a reference to being east of the royal estate at Easthampstead. The place-name and location may have inspired Sir Thomas Malory's Astolat (and Tennyson's Shalott) where, just prior to the Anglo-Saxon period, King Arthur's friend, Sir Lancelot, supposedly stayed with the loyal Sir Bernard. Bernard's daughter, Elaine the Fair, fell in love with the Round Table knight but he did not feel the same. When he left, she died of a broken heart and her body was sent down the Thames in a little boat. It eventually arrived at King Arthur's Court where a letter clutched in her hand explained her story.
Ascot has always been the western portion of Sunninghill parish (now called Sunninghill and Ascot) and, for most of its history, largely consisted of dangerous heathland frequented by highwaymen. John Walsh of Warfield Park is recorded as having shot such a villain of the road whilst crossing Ascot Heath and thought nothing more of it than shooting crows.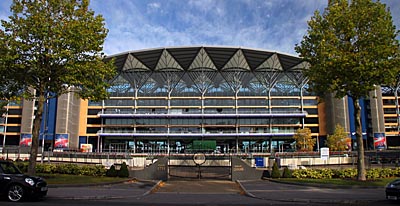 Queen Anne liked nothing better than to hunt in Windsor Forest and it was in the early 18th century that she discovered for herself this open heathland which she thought an ideal place, not five miles from Windsor Castle, for "horses to gallop at full stretch". She founded the famous racecourse there in 1711 when the first meet competed for Her Majesty's Plate (worth 100 guineas). The seven runners were sturdy English hunters which had to hold up through three heats, each four miles long. The popularity of Ascot Races died off in later years and, from 1739, an army contingent took to camping on the heath for training purposes and marched to the Battle of Culloden from there seven years later. On their return, they were enlisted in the construction of the Virginia Water.
The races were revived by the Duke of Cumberland in the 1760s. He was Ranger of Windsor Forest, lived at Cumberland Lodge and had his own stud at Cranbourne: hence his interest in racing. His nephew, King George III, was also a great patron and, in the 1790s, set up the first Royal Grandstand (which became known as the Royal Enclosure in 1845). In 1813, this common land was lost to royal hands in the Windsor Forest Enclosure Act. As a result of its popularity, however, the racecourse was made a permanent feature of the landscape for all the public to enjoy.
Read more history of Ascot and its suburbs and associated villages in David Nash Ford's book, 'East Berkshire Town and Village Histories'.
Click to Order direct from the Author.
NEW BOOK

Whether you are from East Berkshire or just visiting, this book is the place to find out all about the history of some 126 different towns, suburbs, villages and hamlets around Windsor and Maidenhead, Slough and Bracknell Forest. Join David Nash Ford from berkshirehistory.com as he examines the structures, people and events that have shaped each place. Some of these histories were first published in part here on this website, but they have all been considerably expanded and are joined by many new histories of places often missed by historians, including those which only joined Berkshire in 1974 or later. Click for full details and purchase options.