RBH Home
Maps & Travels
Articles
Legends
Towns & Villages
Castles & Houses
Churches
Biographies
Gentry
Family History
Odds & Ends
Mail David

Wantage
Where the Great are Born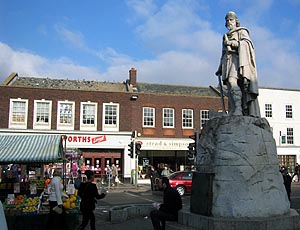 Wantage is a typical English market town. It has a large main square surrounded by a miriad of local shops intermingled with a few High Street names. The market still meets in the central sqaure every Wednesday and Saturday below Count Gleichen's majestic statue of King Alfred the Great.

Wantage grew up around a Saxon Royal Palace and it was here that King Alfred was born in AD 847. His influence can be seen throughout the town. Wantage's many pubs, for example, include the 'King Alfred's Head'. Perhaps the most historic is the Bear Hotel, a large coaching inn dating back to the 16th century. It adjoins the Victoria Cross Arcade, a very narrow passage forming a modern undercover shopping arcade with excellent eating facilities.

The Church of St. Peter & St. Paul is a dominant feature of the town, but not always open for inspection. Its huge size reminds us of Wantage's importance as a cloth centre in Medieval Times. Inside are some amusing corbels, beautifully carved 15th century choir-stalls with delightful misericords and a number of good brasses. The largest is to Lord Ivo FitzWarin - father-in-law of Dick Whittington. The large effigial monument is to his parents. His father died of the plague in 1361. A Norman arch from an adjoining chapel can been seen reset in King Alfred's School.
Just outside the churchyard sits Wantage's excellent Vale and Downland Museum, housed in a 16th century merchant's house. Exhibits cover history and rural life from across the Vale of the White Horse. There is an interactive auditorium, many hands-on activities and a regular programme of exhibitions. There is a superb tourist information centre in the same building and the cafe is listed by Egon Ronay!
There is a good Leisure Centre in Portway with a varied programme of swimming facilities; and, for a small town, a surprising number of well sign-posted car parks scattered around the centre.
Next: Faringdon