RBH Home
Maps & Travels
Articles
Legends
Towns & Villages
Castles & Houses
Churches
Biographies
Gentry
Family History
Odds & Ends
Mail David

Faringdon
Cotswold Fringe Market Town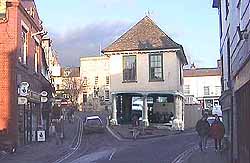 Faringdon is more akin to the small Cotswold towns of Western Oxfordshire than those of Berkshire. It arguably sits right on the edge of the Cotswold Hills and the distinctive regional stone can certainly be seen around the town.

Faringdon has a large central market-place (market day Tuesday) in which pride of place is taken by the delightful Market Hall: an old 17th century building elevated above open stone columns. Adjoining, is the well-known Crown Hotel. Though it looks typically Georgian, the facade hides a pretty courtyard with a Jacobean staircase and a range dating from the 14th century. There are a number of ancient pubs around and a good tourist information centre, though the shops are few.

At the top of the hill sits the large parish church. This fine building shows off architectural features from the many centuries over which it has evolved, though much of it is 13th century. It used to have a soaring spire but this was destroyed by cannon-fire during the English Civil War. Treasures include the splendid South Door with agitated scroll-work and dragon-head terminations, the Early Renaissance effigies of Sir Thomas Unton and his wife (note the one-tun (barrel) rebus) and several nice brasses. The heavy monuments to the Pyes remind us that the churchyard has a resident ghost, one Hampden Pye who had his head blown off at sea. The family lived in Faringdon House, behind the church. This imposing manor who erected in 1780 and its gardens are very occasionally open to the public. Enquiries should be made locally.
Dominating the town on the hillside to the east stands Lord Berners' or Faringdon Folly. This 140 ft high tower was built for no particular pupose on a whim of Lord Berners, a later resident of Faringdon House. Built in 1935, it is the most recent folly erected in the country. It has an arcaded look-out room at the top which, though it has no running water or electricity, is available for hire. The folly is open to the public on the first Sunday of each month. It is surrounded by a pleasant ring of trees on the site of an ancient hillfort and Norman castle. This makes a popular place for dog-walks and there are steep paths up from the town.
Faringdon has a good lesiure centre with new indoor swimming pool and there is the Faringdon Golf Course just outside the town at Great Coxwell.
Next: Abingdon