RBH Home
Maps & Travels
Articles
Legends
Towns & Villages
Castles & Houses
Churches
Biographies
Gentry
Family History
Odds & Ends
Mail David

The Smithy on the Downs
Places to Go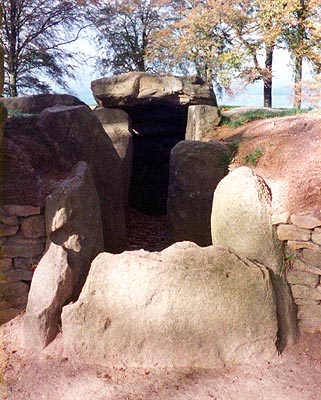 Wayland's Smithy is a beautifully mystical place. The chambered tomb stands next to the Ridgeway in the parish of Ashbury, on the Berkshire Downs. It can be reached down the B4000 south of the village. There is parking by the Ridgeway which leads off to the left. Wayland's Smithy is but a short walk along here, nestling amongst some trees on the left-hand side of the path.
Snivellings Corner is on the footpath between Kingstone Winslow and Odstone Marsh. Sadly, however, the large sarsen stone, with Flibbertigibbet's heelmark still impressed on it, was removed some time around 1965. Photographs of it still exist. It used to stand a few metres south-east of where the old track crosses a stream.
Beahilda's Barrow used to stand somewhere near Cowleaze Farm in Woolstone parish. The farm sits beside the little road heading for Uffington, which parts from the road heading from Compton Beauchamp to Longcot, just before the level-crossing. The barrow must have been completely ploughed out for there is no sign of a burial mound in the vicinity today. Widug's Low is probably the natural mound just north of Hardwell Camp and the B4507, east of Compton Beauchamp. Wade's Barrow, now known as Idlebush Barrow, and its twin sit high on Woolstone Down. A trackway heads south from Uffington Castle, and about two miles along the mounds appear off to the right. Wade's is the most northerly. The other is Hound's Low, called so to match Hawk's Low, the other alternative name for Wade's Barrow.
The Franks' Casket is on display at the British Museum, in the Early Medieval Room, though one panel is kept in Florence. (It is named after its discoverer, Sir A.W. Franks, and has nothing whatsoever to do with the Frankish people.) The crippled Wayland can easily be identified on its front panel. He holds his tongs in one hand which appear to clasp a skull (one of the young princes). With the other, he offers a cup (of his drugged potion) to two young women (Beahilda and her lady-in-waiting). Below his feet lies a lifeless body (the other prince). Egil stands nearby, capturing four birds (from which to make Wayland's magic wings). The other scenes depicted on the casket are an interesting mix of classical and biblical origin.
Back to: The Smithy on the Downs
Back to: Discussion of the Legend