RBH Home
Maps & Travels
Articles
Legends
Towns & Villages
Castles & Houses
Churches
Biographies
Gentry
Family History
Odds & Ends
For Kids
Teacher's Page
Mail David


The man with two faces or just two hats?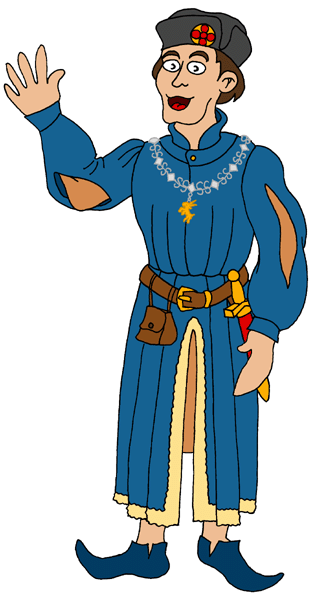 Hello. The year is 1465. My name is Sir John Norreys (pronounced Norriss).
I was an important man at the court of good King Henry VI.
I was the Keeper of his Wardrobe. This was a very important job.
It means I was in charge of all his personal spending money, including for his clothes. Do you like my own outfit?
The minstrels used to sing songs about me. They called me the Royal 'conduit'. This means that if you wanted to see the King, you had to ask me first.
My wife was a Lady of the Garter.
Sadly, England has been torn apart by civil war over the last ten years. Some people call it the War of the Roses. I was on the losing Lancastrian side.
King Henry's cousin, the Duke of York, has made himself King Edward IV. Poor King Henry has had to flee to France
Luckily I changed sides and the new king has been good to me. I am still an esquire at court, but I've had to change my collar to a Yorkist one (hover over my picture).
I've nearly finished building myself a fine new hall house at Bray in Berkshire. It's called Ockholt (some people call it Ockwells).
It's got all the mod cons, including window glass.
I splashed out on stained glass in the great hall There are lovely pictures of the coats of arms of all my friends.
Unfortunately, they were all on King Henry's side in the War. Many of the them were great soldiers who are now dead. How was I to know we would lose? I hope King Edward doesn't come to visit!
He could always come to my castle at Yattendon instead.