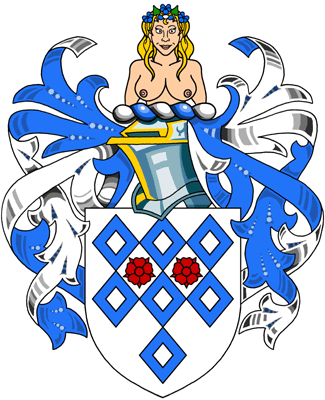 The Braybrooke Family
of North & West Berkshire
The Braybrookes were a well known medieval family from Horsenden in Buckinghamshire. The most famous of them was Robert Braybrooke, the 14th century Bishop of London. His sister, Alice, was married to Sir John Kentwood of Tilehurst. The family originally came from Braybrooke Castle in Northamptonshire.
The first male Braybrooke to settle in Berkshire was James Braybrooke. His ancestry is unknown, but the arms, granted to him in 1505, were identical to those of the Buckinghamshire Braybrookes with the addition of two small red roses for differentiation. James is believed to have hailed from Suffolk, where he was at one time Escheator for the county. He owed his position and success in life to the favour of King Henry VII. In 1490, James was made Page of the King's Chamber and a few years later he became a Gentleman of the Privy Chamber. The King was obviously pleased with James' service and he received numerous grants of land, particularly in Norfolk. Coming from a county by the sea, it is not surprising that posts in coastal towns followed. In 1501, he was granted the lucrative office of Weigher of Wool in the port of Southampton and also Verger of the Castle, Town and Port of Sandwich, and later that of Bailiff there. He also became Receiver of Calais. In Wiltshire, James became Ranger of Groveley Forest, watching over the deer and preventing trespass. So he must have got about a bit. What was probably the great event of his life took place in 1505. He was sent as a diplomat to Naples in an attempt to arrange a marriage between the now widowed Henry VII and the young Dowager Queen Joan of that country.
Braybrooke's settlement in Berkshire was probably due to his marriage with Margery, daughter of (probably William) Woodcock of Shinfield. This lady was the widow of Thomas Humphrey, who may have come from Abingdon. By 1508, when James wrote his will, he was certainly living in this town, where he acted at 'Master of the Swans on the Thames and all the waters running thereinto'. He was buried in Abingdon Abbey and succeeded by his eldest son, Thomas. A younger son, Richard, was Groom of the Chamber to Henry VIII. Thomas also lived in Abingdon. He married Katherine, the daughter of William Barker (probably from Wokingham) and was buried in St. Helen's Church in 1541.
Thomas' sons, John and James Junior, lived at Sutton Courtenay, near his sister, Katherine, wife of John Hyde. The younger one, James, was expelled from the Inner Temple and gaoled for a while for failing to give up Catholicism. He kept a priest, named Father Colleton, hidden in his household for three years. James Junior eventually moved south-west and settled at Brightwalton, where he leased the Manor House. This was almost certainly just after his marriage to Martha, one of the daughters of John Yate of Lyford Grange (and John Hyde's niece). She was aunt of Francis Yate who later employed Father Colleton and whose wife played host to St. Edmund Campion in 1581. Her previous husband was one of the Cheneys from West Woodhay and it was from him that James obtained the manor of Marlston in Bucklebury. He also rented Long Crendon in Buckinghamshire from All Souls' College, Oxford. James died in 1590 and was buried on the north side of the chancel in Brightwalton Church, under a memorial brass which barely survives. His son, William, only lived two years longer and the grandson, Richard, inherited the family estates. It was at this time that his widowed grandmother, Margaret, had two-thirds of the estates of Marlston, Fulscot and Adresham confiscated due to the family's Catholic beliefs.
Richard lived at Marlston House, but had quarrels with Richard Wightwicke over the proper division of the property. He lived through the Civil War when he was a prominent Royalist, as well as a Papist; and, in 1647, he was sequestered for delinquency. Two-thirds of his estates were confiscated, but were recovered after his death, four years later, by his son-in-law, Humphrey Hyde, of Sutton Wick and Northcourt (a descendant of the brother of the previously mentioned John Hyde).