RBH Home
Maps & Travels
Articles
Legends
Towns & Villages
Castles & Houses
Churches
Biographies
Gentry
Family History
Odds & Ends
Mail David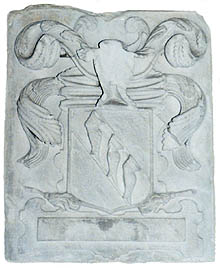 Sonning Church
Monument to the Blagrave Family
North & South Walls: Marble Monument Fragments
Parts of a curious monument were found, during the restoration of 1852, in the Blagrave vault beneath the current vestry. There was no name upon it, but there is every reason to believe it was a memorial to some member of the Blagrave family. Ashmole does not mention it, so it must have been deposited in the vault before his time. The main portion, now in the Lady Chapel, represents six kneeling figures, the three sons and three daughters of the deceased, dating from the reign of King James I. Associated with this was the following inscription: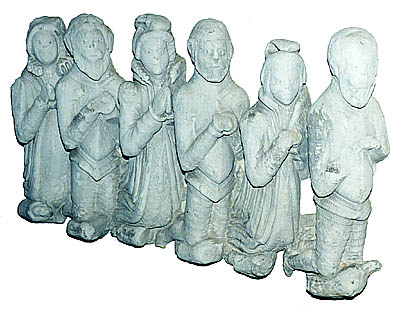 "If life or liking might be bought
For silver or for gold
Still to endure it would be sought
What King would then be old
But all shall pass and follow us


This is most certain truth
Both the high and low of each degree
The aged and the youth
As ye be found meet or unmeet
Against the dreadful hower
As ye be found so shall the sweet
Be served with the sower
All this is said to move their hearts
Which shall this hear or see
That they according to their parts
May follow death as we."

These lines are thought to have been written by the poet, William Grey. He was MP for Reading and acquired the Manor of Bulmershe in the parish of Sonning, in 1545. William's heir was his step-son, John Blagrave, who began the family's association with the parish in 1551. A second inscription found in the vault, and now in the vestry, records the deaths of John's parents: "Robert, who died 1533, Agnes, 1579" and, on the north wall nearby is fine heraldic marble plaque, probably from the figured monument. This was almost certainly erected by John's son, Mr. Anthony Blagrave, but whether it was to the memory of his father, who died in 1597, or to his wife, Jane, daughter of Sir John Borlace of Little Marlow (Bucks), who died in 1605, is uncertain. The latter might be favoured because Anthony and Jane had three sons and three daughters!