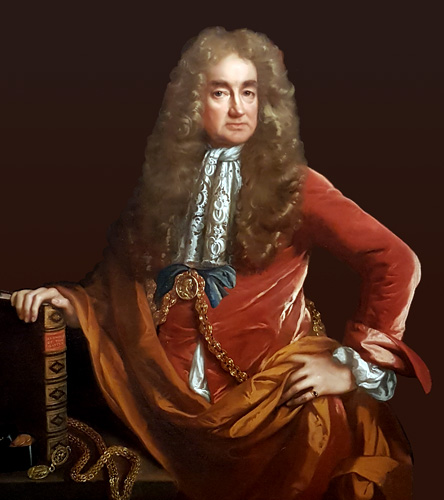 Sir Elias Ashmole
(1617-1692)
Born: 23rd May 1617
at Lichfield, Staffordshire
Windsor Herald
Died: 18th May 1692
at South Lambeth, Surrey
Elias Ashmole, "the greatest virtuoso and curioso that ever was known or read of in England before his time," was born at Lichfield on 23rd May 1617. His father, though following the trade of a saddler, was a man of good family, who had seen much service in Ireland. His mother, whose maiden name was Bowyer, was closely related to James Pagitt, a Baron of the Exchequer. A childhood friendship with Pagitt's son procured Elias' reception into the judge's family, after having received a fair education at Lichfield Grammar School, and as a chorister in the Cathedral.
Through the patronage of Baron Pagitt, he became a solicitor in 1638, "and had indifferent good practice." In the same year, he married Eleanor Mainwaring, of Smallwood in Cheshire, who died suddenly in 1641. In 1642, having embraced the Royalist side in the Civil War, he left London and retired into Cheshire and, in 1644, was appointed by the King as Commissioner of Excise at Lichfield. Business connected with this employment brought him to Oxford, where he was long detained soliciting the Royalist Parliament assembled in that city. There, he made the acquaintance of Captain (afterwards Sir) George Wharton, who procured him a commission in the ordnance, and imbued him with the love of astrology and alchemy which, next to his antiquarianism, became the leading feature of his intellectual character. He entered himself at Brasenose College and studied physics and mathematics; but, about the end of the year, became Commissioner of Excise at Worcester, to which he soon added the employments of Captain of Horse and Controller of the Ordnance. In July 1646, Worcester, however, surrendered to the Parliament, and Ashmole again retired into Cheshire.
In the October, Elias came to London and mixed much in astrological circles, becoming acquainted with Lilly and Booker, and finding himself a guest at 'the mathematical feast at the White Hart.' He was also one of the earliest English Freemasons, having been initiated in or about 1646, in which year the first formal meeting of the body in England was held. His marriage must have been prudent or his employments profitable for, about this time, "it pleased God to put me in mind that I was now placed in the condition I had always desired, which was that I might be enabled to live to myself and studies without being forced to take pains for a livelihood in the World."
This did not, however, prevent his seeking to improve his fortunes still further by marriage with a lady twenty years older than himself when he retired to Englefield in Berkshire. Mary, sister of Sir Humphrey Forster from nearby Aldermaston Court, was the widow of three husbands, the mother of grown-up sons and, as Lady Mainwaring, was a very distant relative, through her last husband, of Ashmole's first wife. On 1st March 1647, "I moved the Lady Mainwaring in the way of marriage, and received a fair answer, though no condescension." In July, the lady's second son by her first marriage, Humphrey Stafford, disapproving of the match, "broke into my chamber, and had like to have killed me." He was not deterred, however, from prosecuting his suit, the progress of which is amusingly recorded in his diary. At length, on 16th November 1649, his perseverance was triumphant, and he "enjoyed his wife's estate, though not her company for altogether"; and notwithstanding family jars, subpoenas, sequestrations and frequent sicknesses, all faithfully noted, he vigorously pushed forward his studies in astrology, chemistry and botany.
In 1650, Ashmole edited an alchemical work by Dr. Dee, together with an anonymous tract on the same subject, under the anagram of James Hasolle. In 1652, he published the first volume of his 'Theatruin Chemicum,' a collection of ancient metrical treatises on alchemy. He procured his friend Wharton's deliverance from prison and made him steward of the estates, centred on Bradfield in Berkshire, which he had acquired by his second marriage. He also formed the acquaintance of William Backhouse of Swallowfield Park, a venerable Rosicrucian, who called him son, and "opened himself very freely touching the great secret;" as well as that of John Tradescant, keeper of the botanic garden at Chelsea, an intimacy which has indirectly contributed more than anything else to his celebrity with posterity. He studied Hebrew, engraving and heraldry, and manifested, in every way, an insatiable curiosity for knowledge, justifying Selden's opinion of him as one "affected to the furtherance of all good learning." On 13th May 1653, Backhouse "told me, in syllables, the true matter of the philosopher's stone, which he bequeathed to me as a legacy." But Ashmole has omitted to bequeath it to us. His domestic troubles came to a head in October 1657, when his wife's petition for a separation and alimony, though fortified by eight hundred sheets of depositions, was dismissed by the court and she returned to live with him.
The Restoration marks a great turning point in his life. His loyalty had entitled him to Charles II's favour and, being introduced to the King by no less influential a person than Chiffinch, he was appointed Windsor Herald "and had Henry VIII's closet assigned for my use." From this time, antiquarian pursuits predominated with him and we hear comparatively little of astrology, in which, however, he never lost his belief or interest, and nothing of alchemy. His favour at court continued to grow and places were showered upon him. He successively became commissioner, controller, and accountant-general of excise, and held, at the same time, the employments of commissioner for Surinam and controller of the White office. He was, about this time, engaged in litigation with the widow of his old friend, Tradescant, who had bequeathed his museum to him. A friendly arrangement was, at length, concluded and Ashmole became possessed of the curiosities which formed the nucleus of the institution by which he is best remembered. In 1668, his wife died and, in the course of the same year, he married a much younger lady, the daughter of his friend, the herald, Dugdale. All this time, he was diligently engaged upon his great work, the 'Institution, Laws and Ceremonies of the Order of the Garter,' which was published in 1672 and brought him many tokens of honour, both from his own and foreign countries. It is certainly a noble example of antiquarian zeal and research. He, soon afterwards, retired from his post as Windsor Herald, receiving a pension of £400, secured upon the paper duty; and he subsequently declined the appointment of Garter King-at-Arms in favour of his father-in-law, Sir William Dugdale.
In 1677, Ashmole determined to bestow the museum he had inherited from Tradescant, with his own additions to it, upon the University of Oxford, on condition of a suitable building being provided for its reception. The gift was accepted on these terms, and the collection was removed to Oxford upon the completion of the building in 1682, Dr. Plot being appointed curator. According to Anthony Wood, the curiosities filled twelve wagons. Ashmole quaintly notes in his diary, for 17th February 1683, "The last load of my rarities was sent to the barge, and this afternoon I relapsed into the gout." In 1685, he was invited to represent his native city in Parliament, but desisted from his candidature to gratify King James II. In 1690, he was magnificently entertained by the University of Oxford, which had conferred upon him the degree of MD. He ultimately also bequeathed his library to this institution. It was invaluable as regards manuscripts but equally so in printed books until damaged by a fire at the Temple in 1679, which had also destroyed his collection of medals. He closed his industrious and prosperous life on 18th May 1692, and is interred in South Lambeth Church under a black marble slab with a Latin inscription, promising that his name shall endure as long as his museum.
The Ashmolean Museum, though really formed by Tradescant, has indeed secured its donor a celebrity which he could not have obtained by his writings. Ashmole was nevertheless no ordinary man. His industry was most exemplary, he was disinterestedly attached to the pursuit of knowledge, and his antiquarian researches, at all events, were guided by great good sense. His addiction to astrology was no mark of weakness of judgment in that age. He can hardly have been more attached to it than Dryden or Shaftesbury, but he had more leisure and perseverance for its pursuit. Alchemy, he seems to have quietly dropped. He appears in his diary as a man by no means unfeeling or ungenerous, constant and affectionate in his friendships, and placable towards his adversaries. He had evidently, however, a very keen eye to his own interest, and acquisitiveness was his master passion. His munificence, nevertheless, speaks for itself, and was frequently exercised on unlooked-for occasions, as when he erected monuments to his astrological friends, Lilly and Booker. He was also a benefactor to his native city.
Ashmole's principal work is his 'Institution, Laws, and Ceremonies of the Order of the Garter' (1672), one of those books which exhaust the subject of which they treat and leave scope only for supplements. The edition of 1693 is a mere reprint; but in 1715 a new edition was published under the title of 'The History of the Order of the Garter,' with a continuation by T. Walker. 'The Antiquities of Berkshire, with a particular account of the Castle, College and Town of Windsor,' was published in 1719, and again in 1736. It consists merely of Ashmole's notes during his official visitation as herald, and the genealogical papers transcribed by him; but these form together a very copious collection. It is prefaced by a memoir of the author. His own memoirs, drawn up by himself by way of his diary, were published in 1717, and reprinted along with the autobiography of his friend Lilly in 1774. They are a quaint and curious record, narrating matters of great personal importance to him in the same dry style as the most trivial particulars of big numerous ailments: how he cured himself of an ague by hanging three spiders about his neck and how, on the ever-memorable 14th February 1677, "I took cold in my right ear." His alchemical works are merely editions or reprints and the only one of importance is the 'Theatrum Chemicum' (1652), which contains twenty-nine old English poems on the subject, some very curious. The extent of his collections in genealogy, heraldry, local and family history, astrology and alchemy, may be estimated from the admirable catalogue of Mr. W. H. Black and the index by Messrs. Macray and Gough (1845-66).
Edited from Leslie Stephen's 'Dictionary of National Biography' (1885).