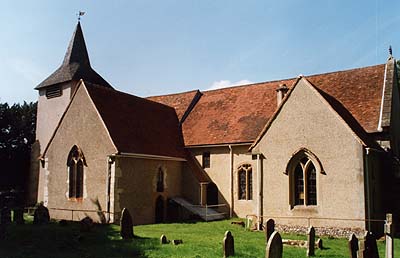 Aldermaston
St. Mary's Church
Aldermaston Church was a Saxon Minster, but the present building dates from the 12th century and stands in the standard Norman position adjoining the manor house, now Aldermaston Court. Most of the church is 13th century, including the single transept; the tower and spire two hundred years later. The medieval Achard family, who entertained Henry III at the manor (1227), gave the parish church away to Sherborne (ie. Pamber) Priory (Hampshire). The priest had to ride over on his horse every Sunday. It is suggested that this is the reason why the Achards were all buried in Sparsholt Church on their secondary manor.
It is a beautiful church full of reminders of later Lords of the Manor. The transept, known as the 'Forster Chapel,' houses non-effigial brasses and some good heraldic glass. Beneath the entrance arch is the building's finest treasure: the splendid alabaster monument to Sir George Forster and his wife (c.1530). You can only imagine its magnificence in its original painted state. The carving is superb: the angels at the pillows and the little dog at Lady Forster's feet. Especially appealing are the sixteen tiny weepers around the outside of the chest. They are said to represent the couple's children, but their painted arms have long disappeared and individual identification is no longer possible. They probably included other relatives. In good light, these figures are still quite colourful. The monument is by the same hand as ones in Llandaff Cathedral and St. George's Chapel, Windsor. Sir George's standard also hangs in the church. There is also a fine Royal Arms of Charles I and a large collection of Congreve hatchments. The chancel is decorated with Victorian wall paintings that include a portrait of Miss Keyser, the daughter of the Lord of the Manor. The north window houses the oldest glass in the county: two 13th century roundels featuring the annunciation and the coronation of the Virgin Mary.
This is not the official Aldermaston Church website. Please do NOT mail me about use of the church. Visit the C of E's Church Near You website instead.