RBH Home
Maps & Travels
Articles
Legends
Towns & Villages
Castles & Houses
Churches
Biographies
Gentry
Family History
Odds & Ends
Mail David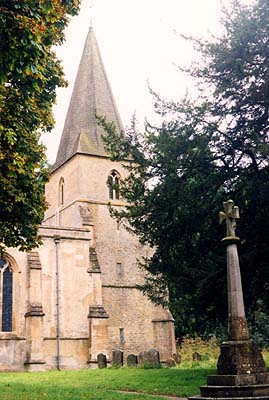 Sparsholt
Holy Cross Church
The plain stone font is the oldest object to be seen at Sparsholt. It came from the old wooden Saxon Church which once stood on the same site and dates from the 8th century. A Norman replacement was built in the late 12th century. The lower parts of the nave and tower date from this time, but, more interestingly, the north door with its original iron scrollwork and sanctuary ring.
The present building mostly dates from an almost complete rebuilding in the late 13th & early 14th century when the chancel and the two transepts were added and the tower heightened. This magnificent architectural project was the result of a collaboration between the Lord of the Manor, Sir Robert Achard (alias Coleshill), and his kinsman, the rector, William de Herleston. Both died in 1353. The latter has a fine brass memorial at the entrance to the chancel, while Sir Robert's has the 'founder's tomb' in the south wall of the chancel. This cross-legged stone knight forms part of an excellent set of chancel trappings including the Easter Sepulchre, Sedilia & Piscina. Note the 'Nine-Men's Morris' board - a popular medieval game - scratched onto the north wall here.
Past the unusually early wooden screen (13th century) into the south transept are found beautifully detailed wooden effigies showing Sir Robert's widow, Agnes (died 1358), his son, Peter (died 1361) and the latter's wife, Elizabeth (died about 1360). [These identifications are somewhat controversial]. The family mostly lived at Aldermaston, but were buried at their secondary manor because they had given the church at the latter away to Pamber Priory.
The church has some interesting old glass. Original 14th century fragments include Christ in Majesty, the Coats of Arms of the Achards and their descendants, the De La Mares; and a head of the Virgin Mary from her Coronation. The glass of circa 1500 in the window over the north door is a much later insertion. It features St. Katherine & St. Margaret and is believed to have originally come from Thomas Wolsey's Cardinal College (now Christchurch), Oxford: hence his motto of "The Lord is My Helper".