RBH Home
Maps & Travels
Articles
Legends
Towns & Villages
Castles & Houses
Churches
Biographies
Gentry
Family History
Odds & Ends
Mail David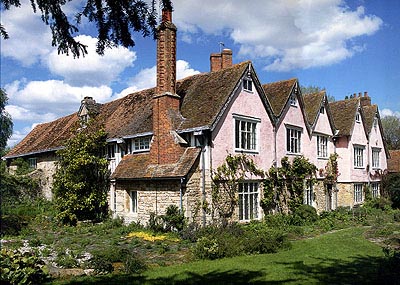 Sutton
Courtenay
Manor
Sutton Courtenay, Berkshire
Sutton Courtenay Manor House is Grade II* Listed and enjoys a slightly elevated setting with far reaching westerly views to the river and on all sides over its attractive gardens. The house consists of two wings with a central block, enclosing a stone flagged courtyard, and is of distinctive architecture with its fine sharp pointed gables and Ipswich-style lattice windows. The principal reception rooms are arranged in the main wing and have some fine panelling, oak floorboards and leaded light windows. Arranged mainly over two floors, the principal accommodation is supplemented by a nursery wing and kitchen wing providing ample secondary accommodation. All three wings have access onto the inner courtyard with its fine ornamental garden and beautiful covered loggia.
The Manor is believed to have belonged, at a very early period, to Saxon and Norman Kings. The east wing of the house certainly dates from the late 11th Century and it was there that Queen Matilda, wife of King Henry I, gave birth to their daughter - later to become the Empress Matilda - whilst attended by Abbot Faricius of Abingdon, a great physician of his day. In 1177, the Manor was granted by the Empress' son, Henry II, to his great friend, Reginald Courtenay, from whom the Manor derives its name. Up until 1293, it seems, with the adjoining Norman Hall, to have been the principal home of the Courtenays, but, in that year, Hugh Courtenay succeeded a distant relative as Earl of Devon and inherited large estates in that county. From then on, Sutton Courtenay seems to have been chiefly used as a dower house the Earl of Devon's mother. Around 1306, the place was purchased by the Brunce Family and became known as 'Brunce's Court'. They were responsible for the substantial building works there between 1377 and 1422, during which time it was the childhood home of Thomas Brunce, subsequently Bishop of Norwich. Later, William, Lord Craven of Hamstead Marshall is believed to have added the north-west wing in a style reminiscent of his work at Hamstead Marshall Park in Berkshire. The house remained in the property of the Cravens until 1821, when it was bought by William Monk. In 1886, the Manor became the property of the late Lord Wantage.
Sutton Courtenay Manor is a private residence. It was last offered for sale by Knight Frank in 2004.