RBH Home
Maps & Travels
Articles
Legends
Towns & Villages
Castles & Houses
Churches
Biographies
Gentry
Family History
Odds & Ends
Mail David

The
Norman Hall
Sutton Courtenay, Berkshire
Norman Hall, which is listed Grade I, is one of the oldest buildings in the village of Sutton Courtenay; indeed, it is one of the oldest domestic buildings in Berkshire. It was built about 1192, in the reign of Richard I, Coeur de Lion, almost certainly for Robert Courtenay II, a younger son of King Henry II's great companion Reginald Courtenay who was granted the manor in about 1177. The stone hall itself was constructed as the centre piece of a complex of buildings built to replace the nearby manor house which was then in a state of disrepair. It is unusual for its date in being aisless and of a single storey, but this may reflect Robert's position as a younger son and his lack of pecuniary resources. It is, however, remarkably well lit and has a finely carved Norman doorway. It would have been the envy of all his friends. The later Courtenays became Earls of Devon and their activities became increasingly centred on that county, although there would have been occasional visits to Sutton when attending the King in Oxford or Woodstock. Eventually, by 1306, Norman Hall had split from the manor and passed to new owners. Alterations and additions were later made in the 15th and early 20th centuries. The house is constructed principally of stone and brick under a tiled roof, with some stone mullion windows, and sits almost centrally in nearly two acres of mature gardens.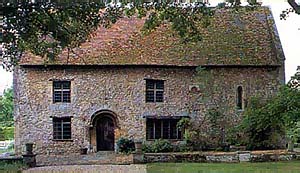 It has well proportioned, spacious accommodation throughout with enormous character, the rooms having a delightful outlook over its own gardens. The 12th Century Great Hall is a great architectural and historical feature with high rafters, a large open fireplace, wooden panelling to the walls and a wooden floor, it provides an exceptional room for entertaining.
The gardens amount to about 1.9 acres and provide an attractive setting and benefit from a swimming pool, tennis court and a boat house with 50m (164 ft) of frontage to the River Thames.
The Norman Hall is a private residence. It was last offered for sale by FPD Savills & Chancellors in 1998.