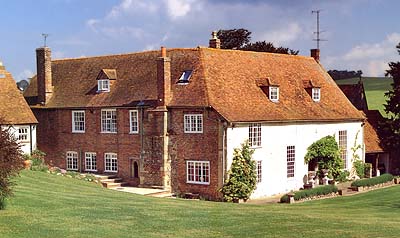 Great Shefford Manor
West Shefford, Berkshire
Great Shefford Manor adjoins the parish church at the western end of the village of Great or West Shefford. The house is largely built of brick with half flint infilling, below a clay tiled roof with dormer windows. It is a Grade II* listed building whose large farmhouse-like appearance, with many additions and alterations, hides an impressive history. Great Shefford Manor was long thought only to date from the 16th Century but recent investigations have suggested it may have early Norman origins. The east range is certainly the hall of a medieval house, with full-height windows flanking the entrance.
In the 14th century, the house was merely minor manor, one of many belonging to the Kentwoods from Tilehurst. However, over the next hundred years, it became a prized country residence, the inheritance of a succession of heiress, whom penniless younger sons of landed families were more than eager to wed. It all started in 1484, when the Kentwoods allowed Alexander Cheney, a younger son of the Cheneys from Shirland on the Isle of Sheppey, to live at Shefford. It seems likely that he had married the widow of Robert Kentwood. Alexander had several well-known elder brothers, including John, Lord Cheney of Shurland, and Roger, the father of another John Cheney who settled at West Woodhay House. A two-light 15th century window in the hall's cross wing may date from his time. However, Cheney did not live to enjoy his new home for many years and, after a few legal wrangles, Shefford became the property of his young daughter, Eleanor. Eleanor married Richard, the second son of Sir William Norreys Senior of Yattendon Castle, and they too had a single daughter, Anne. She married Sir Richard Brydges, a cousin of the 1st Lord Chandos (sometimes erroneously called his brother). It was his father, Henry, who had been the younger son. Both father and son came to prominence as MPs for Ludgershall in Wiltshire, where they rented their other home, Ludgershall Lodge, on the site of the old castle. Sir Richard has a fine monument in Ludgershall Church, where he lies alongside his second wife, Jane, the daughter of Sir William Spencer of Althorp in Northamptonshire. Anne had no children, so it was Jane's son, Anthony, who inherited Great Shefford Manor. A Roman Catholic during the dangerous times of Queen Elizabeth I's reign, he sheltered Father George Snape there between 1584 and 1591. The priest hole which still exists in the chimney of the Great Hall almost certainly dates from his time. The priest was finally captured, but converted to Protestantism to save his neck. Brydges liked it at Shefford and was eventually buried in the church there. His only daughter, another Eleanor, married Sir George Browne of Wickhambreux in Kent, the eldest son, by his second wife, of the 1st Viscount Montague.
Their son, George, had two thirds of his manor confiscated for also being a recusant Catholic. He had to rent it back from the King. Despite this, he was a staunch Royalist and three of his sons fell in the service of the King during the Civil War. The diarist, Captain Simonds, wrote that on "Tuesday 19th November 1644. The [Royalist] army marched. His Majestic lay at Great Shefford in the Old Manor House of Mr Browne Esq; a parke belonging to it. This day in the March a soldier hanged for plunder, but the rope broke". It is said King Charles slept in the 'King's Room' which, at the time, was painted with rural landscapes. Sir George was later rewarded with a Knighthood of the Order of the Bath at the coronation of Charles II. He died in 1678 and was buried in Shefford Church. The house passed to his brother's family whose main home was at Caversham Court. So Great Shefford Manor returned to being only an occasional residence. They eventually sold up to Sir William Trumbull, sometime Secretary of State to William III, in 1714. It then descended to the family of the Marquis of Downshire, but both Trumbulls and Downshires lived chiefly at Easthampstead Park.
Great Shefford Manor is a private residence. It can be partially seen over the wall, down the lane to the church. It was last offered for sale by Strutt & Parker in June 1998.