RBH Home
Maps & Travels
Articles
Legends
Towns & Villages
Castles & Houses
Churches
Biographies
Gentry
Family History
Odds & Ends
Mail David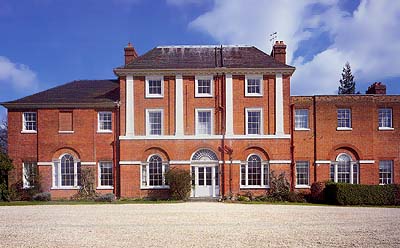 Forest Lodge
Windsor, Berkshire
Forest Lodge stands just inside the Forest Gate of Windsor Great Park on the right travelling towards Windsor on the A332 Sheet Street Road. The house is a large nine-bay Georgian house of brick with Venetian windows.
There was a property called 'Holly Grove' on the site as early as 1697. By 1760, this had been purchased by Colonel (later Major-General) Studholm Hodgson, Equerry and Stable Manager to the 1st Duke of Cumberland who was resident at nearby Cumberland Lodge. However, the following year, he was appointed Keeper of New Lodge Walk and transferred his home to that building instead. In 1772, Holly Grove was purchased by John Deacon, Groom of the Bedchamber to the 2nd Duke of Cumberland, who instigated the building of the present house, designed by Thomas Sandby. It is his principle surviving architectural work. Deacon left in 1783 and, over the next decade, there were a number of different owners, including Henry Griffiths of Beaumont Lodge. In 1792, Lady Jennings Clerke bought Holly Grove. She employed Humphrey Repton to landscape the gardens, but his plans to transform the house into an Indo-Chinese eccentricity were apparently rejected. In the early 1800s, the estate was owned by the Broadhead family, who sold it, in 1829, to King George IV. The King had already appropriated the Royal Lodge for his own amusement and needed to find an alternative official residence for the Deputy Park Ranger. It continued in this capacity until 1937 when Edward VIII decided to lease it to his equerry, Sir John Aird. After a number of arguments, the name of the house was changed, at this time, to 'Forest Lodge'.
Forest Lodge is a private residence, leased from the Crown.