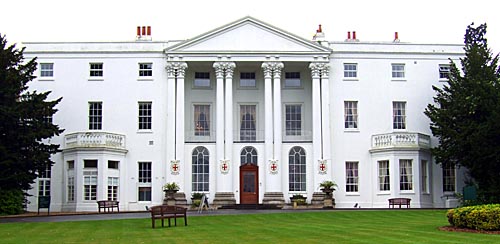 Beaumont Lodge
Old Windsor, Berkshire
Beaumont Lodge can be found south of Old Windsor outside the Great Park near the border with Surrey.
The original house was built for Lord Weymouth as 'Bowmans Lodge' in 91 acres of land. Warren Hastings (1732-1818), Governor-General of India, bought the property in 1786 and lived there while on trial for alleged corruption. The property was then purchased by Henry Griffiths who had Henry Emlyn rebuild it in 1790 as a nine-bay mansion with a enormous portico with columns in beech tree style. The estate was bought by the Society of Jesus in 1854 for novices and became their Roman Catholic college in 1861. Ranges were added between 1865 and 1870 and the chapel dedicated to St. Stanislaus was built in 1870. On the terraces, stands a vast open air altar and Calvary.
Beaumont Lodge is now as a management training centre.